Ireland women face Wales in Six Nations warm-up game in Caerphilly
Last updated on .From the section Irish Rugby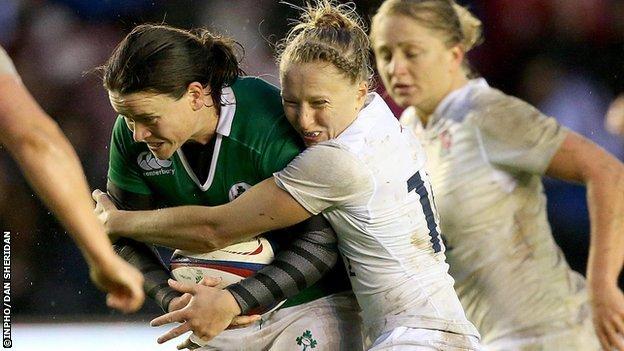 Ireland women's will continue their preparations for the defence of their Six Nations title when they face Wales in a non-cap game on Sunday.
The game, which will have rolling substitutions, will take place in Caerphilly with a 12:00 GMT kick-off.
Tom Tierney's side will begin their defence of the Six Nations against Wales on Donnybrook on 6 February.
"It will be good to get a final run out before we start the tournament in Donnybrook," said Tierney.
"We've had some good camps over the past few months, and with the England game in November and now this warm-up fixture against Wales.
"We're getting the opportunity to try out some different combinations and build our squad ahead of the Six Nations."
Ireland squad for Wales game on 24 January
Forwards: Elaine Anthony (Munster), Ciara Cooney (Leinster), Ailis Egan (Leinster), Grainne Egan (Connacht), Paula Fitzpatrick (Stade Toulousain), Zoe Grattage (Munster), Ciara Griffin (Munster), Claire Molloy (Connacht/Bristol), Heather O'Brien (Stade Toulousain), Fiona O'Brien (Leinster), Ruth O'Reilly (Munster), Lindsay Peat (Leinster), Fiona Reidy (Munster), Marie-Louise Reilly (Leinster), Sophie Spence (Leinster)
Backs: Niamh Briggs (Munster), Liz Burke (Munster), Nikki Caughey (Ulster), Mairead Coyne (Connacht), Aine Donnelly (Leinster), Mary Healy (Connacht), Claire McLaughlin (Ulster), Larissa Muldoon (Exiles), Sene Naoupu (Connacht), Elise O'Byrne-White (Leinster), Jackie Shiels (Exiles)