Cornish Pirates squad must 'be men' about selection - Ian Davies
Last updated on .From the section Rugby Union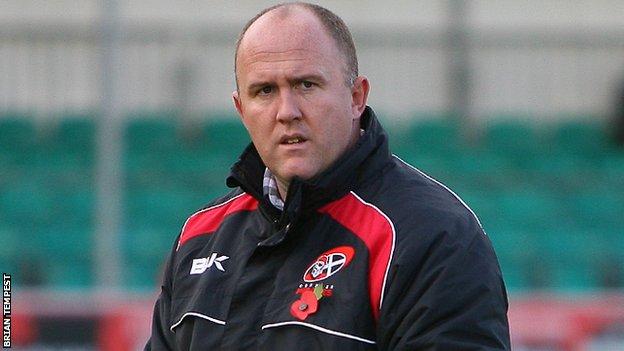 Cornish Pirates head coach Ian Davies says his players must approach him if they are unhappy about team selection.
After a poor start to the Championship season they have won their last four league games and reached the quarter-finals of the British & Irish Cup.
"If you're going to be a man about it their job is to come and see us and we explain to them," said Davies.
"We're pretty matter of fact, we don't flower it, but the idea is that they come to us."
Competition for places has grown at Pirates in recent weeks, with Kieran Hallett, Alex Cheesman and Tom Duncan among those coming back into the fray.
"Suddenly, selection becomes a bit of a problem for us," Davies told BBC Cornwall.
"Our policy is very much if you're in the shirt you keep the shirt if you perform - training can be fairly fruity, as they say, but the boys have got to work hard because they know they've got hungry guys who want to play.
"Last week I picked a team, Gavin Cattle picked a team and Alan Paver (coaches) picked a team. There were three different teams and we had to sit there and debate who was going to fit where."