Cornish Pirates: Winning form brings selection poser for Davies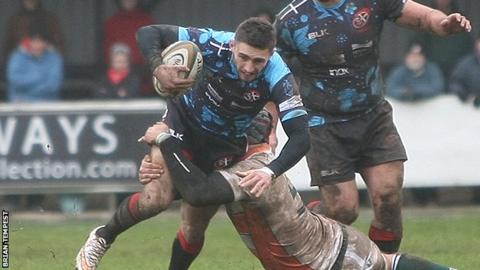 Cornish Pirates boss Ian Davies is facing a selection headache as the team's run of good form continues.
The Penzance-based club have won 10 of their last 11 matches, rising from the foot of the Championship to sixth.
"In our training sessions we come off saying 'how have we left so and so out this week because he's on fire'.
"Then you watch the tape back and you realise the reason we've left him out is because the guy in the shirt is also on fire," Davies told BBC Cornwall.
The Pirates, who have also qualified for the knockout stages of the British and Irish Cup, face fourth-placed Yorkshire Carnegie at the weekend.
"It's really good at the moment. We've got a lot of frustration and a lot of players chomping at the bit, so the good thing is when those guys come in we know they're going to perform," said Davies.
"It's a massive challenge because they are good players and they've done a job for us previously either this year or in previous years, and they just need to be given that chance."
He added: "No-one enjoys training, let's be honest, everyone enjoys the playing side of it, so if you're working Monday to Friday to get into the team and then you miss out, you can understand the frustration.
"But there's a togetherness there, they're all working for each other and enjoying the fact that we're on this winning run of 10 out of 11 and they know they're contributing massively to it."