Six Nations Extra: 'Scotland team just needs time'
Last updated on .From the section Scottish Rugby
For the tenth season running Scotland opened up their Six Nations campaign with a defeat, this time going down 15-9 to England at Murrayfield.
The Scots are now on an eight-match losing streak in the competition, their worst ever run.
So are Vern Cotter's men heading towards a repeat of last year's Wooden Spoon? Or will the Scots display the promise they showed at the World Cup and secure a much-needed win against Wales in Cardiff on Saturday?
Our Six Nations Extra panel of Mike Blair and Al Kellock assess Scotland's opening day performance and look at where they can improve before that clash with the Welsh.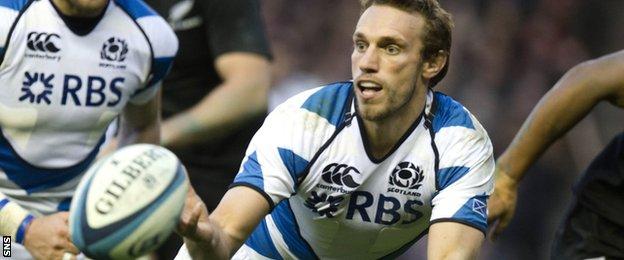 Do Scotland players deserve a rocket?
After the 15-9 loss to England, former Scotland captain Andy Nicol agreed with ex-England centre Jeremy Guscott that the Scots "need a rocket".
Blair: "I think that's an easy answer. Did Scotland lack intensity in defence? I don't think so.
"There were elements of the game that didn't go quite right. There were a few sloppy errors. That's not something that a rocket is going to fix."
What needs to change?
Kellock: "I'd like to have seen Scotland play a faster game. We saw in the World Cup that Scotland are at their best when it's unstructured. The likes of Stuart Hogg and Tommy Seymour breaking on to the ball from deeper."
Twitter questions
We asked you to get in touch with questions for our Six Nations Extra panel. We selected some of the best and put them to Mike and Al.
Was World Cup performance over-hyped?
Blair: "The World Cup was a great tournament for Scotland. We showed what we are capable of doing, but we are a young, developing team going forward. That's the key for this team - staying together for the next 18 months, playing regularly, similar selections and we will get better.
"We've not suddenly gone from up here to down here. I think we've generally been on the same sort of plane. We just need time."
Are we too concerned with the opposition?
Kellock: "No. The coaches we have in place know exactly what they are doing. They'll have looked at England, but the thing about England this time around is that nobody knew what they were going to do.
"What we didn't get right is I don't believe Vern would have seen exactly what he saw on the training park transferred onto the pitch."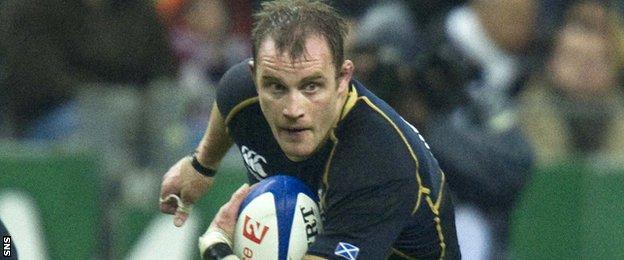 Wales up next
Scotland travel to Cardiff looking for a first Six Nations victory since beating Italy in Rome back in February 2014. However, they have lost their last eight matches against the Welsh, and have not won in Cardiff in 14 years.
Blair: "The Welsh played pretty well against Ireland. To get a draw in Dublin isn't a bad result. They'll have wanted more but they'll be fairly confident going into the game against Scotland.
"Scotland haven't done particularly well at the Millennium Stadium, but we're a game on. Historically, Scotland have always been underdogs in the Six Nations. For Scotland to win we need to play very well."
Kellock: "What we've got to deal with down in Wales is the Welsh physicality, more in their backline. I believe our pack will deal with any pack in the Six Nations.
"Wales don't play an overly difficult game-plan. They'll come round the corner hard with their big runners and reset their backline. We need to stop them before they get over the gainline or it becomes a very, very tiring game.
"If we stop them physically then there's no reason why we can't win."
Do you have a question you want to put to our Six Nations Extra panel? Tweet @BBCSportScot and we will select the best questions to put to our guests on next week's programme.