Six Nations 2016: Jeremy Guscott on England v Wales, boredom & rules
Last updated on .From the section Rugby Union862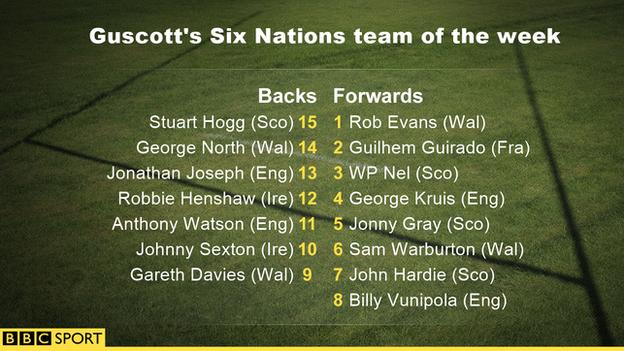 Among the topics Jerry discusses this week are:
Can England's attack break down Wales' defence

Does rugby need to expand its global appeal

Is Jerry bored with the game

Should bonus points be introduced in the Six Nations
Jerry answers questions posted on the website at the start of every week - entries are now closed for this Q&A. This week's answers appear below.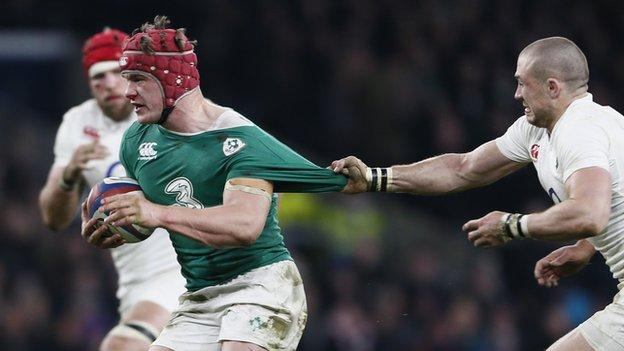 Do you think television match officials have too much power? In all three games we saw play getting called back after several phases for some offence that otherwise would have allowed play to flourish - TheLastKingOfEngland
"When the TMOs are right we all love them and when they are wrong we are quick to criticise. It is a new system that we are still getting used to - they just need to speed the process up.
"I think this weekend we saw the referees were a little bit more cautious because of the Gareth Davies try last weekend against Scotland. Ultimately, I think the most important thing is the question that refs are asking the TMO. Rather than 'Is it a try? Yes or no?' it should be 'Is there any reason why I can't award the try?' If they had done that in the England game yesterday then the Josh van der Flier try would have been given.
"As far as I am concerned they can come in as often as they like to draw a referee's attention to foul play."
Is there any way that England's attack can break down the Welsh defence? - Luke Martin
"The Welsh defence has won them Championships and Grand Slams but the way to break them down is the same way that England have scored tries against Scotland, Italy and Ireland - by getting quick ball and playing heads-up rugby.
"England used to take a long time to find their attacking shape and that has changed. They started with Jack Nowell's try against Scotland and they have done it in their two games since as well - good, intuitive heads-up rugby. Quick ball will stretch any defence."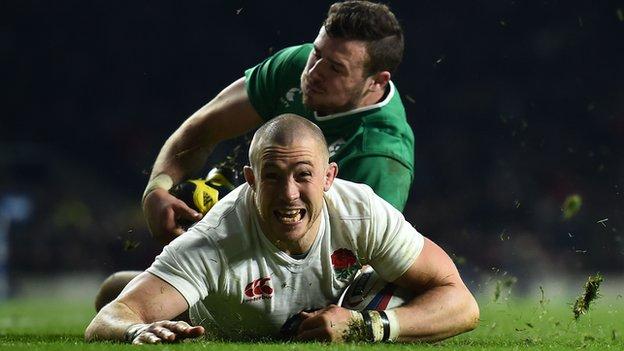 I was told last week that Mike Brown covered his legs in Vaseline against Italy, much in the way boxers put it on their cheeks and brows to deflect punches. Is this a practice you're aware of? - CharlieAdamsTeeth
"Everybody used to do it. Some players had a special liniment a little bit like Deep Heat. Some players - and I am not naming names - used to do it to make their legs look better - nice and shiny. It is also done in part for protection against cuts."
What are your thoughts on introducing bonus points in the Six Nations? I believe it would encourage more attacking rugby - MF
"I am happy with the system as it is. I read that someone looked into it and worked out that a side could win a Grand Slam but not win the Championship, which wouldn't be right to me."
Does rugby need to change at a strategic level in order to expand its global appeal? As a flagship event for the sport the Six Nations falls short and much of the rugby has been dire. Hardly an advertisement for the game - Dragonborn
"The Six Nations is the best competition in the world - people talk about it all year round. The Rugby Championship has to sell itself to get anywhere close.
"A lot was made of the last weekend of the 2015 Six Nations. And, knowing the British and Irish psyche, if it was like that week in, week out there would be people saying that they want it to go back to more a more traditional, tighter game.
"The Six Nations is about winning so the risks taken are less. I would leave it as it is."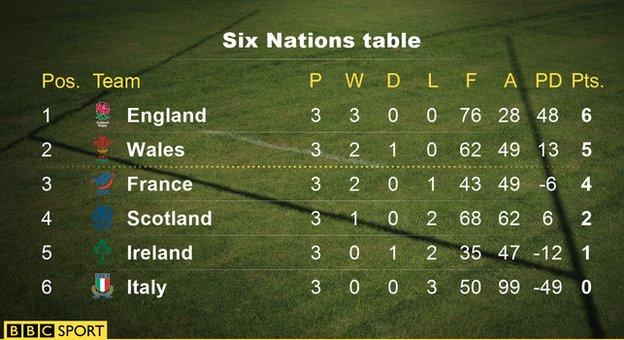 Are you getting bored with the game? I've been a life-long fan of rugby as both a player and a spectator, but now find it boring with forwards lined up across the pitch just waiting for the next round of crash-bang-wallop. What changes to the rules would you make? - Domrugby10
"Am I getting bored? No, I'm not. I like the games of chess that we see. I like 3-3 or 36-33. My expectation is to expect the unexpected.
"What I would like to see is what Warren Gatland talked about last week - the idea that we should only have injury replacements. If we are allowed to trial it in the Six Nations or the Aviva Premiership then we should do it. That could be a way to get things more exciting. Let's not be afraid to try things. I think there should be a serious campaign to lobby to try that."
Who will win the Six Nations? - Steve Humphreys
"I still think Wales will do it."