Siam Cup 2016: Only eight Jersey professionals will play against Guernsey
Last updated on .From the section Rugby Union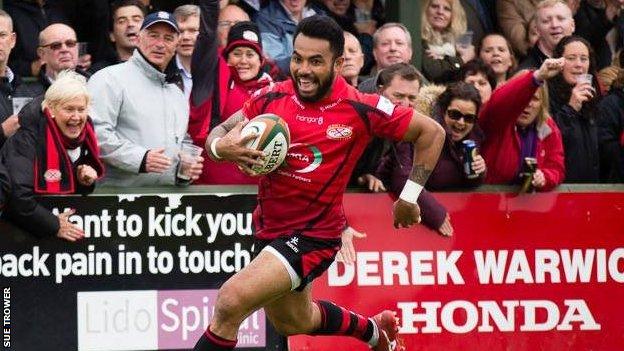 Jersey will only have eight of their professional squad on the pitch at any one time in an effort to even up this year's Siam Cup game against Guernsey.
New rules were adopted on Tuesday, meaning only professional players who had been in Jersey for three years will be eligible for the annual match.
The Sarnians have not lost since 2008, with Guernsey scoring just 29 points in the last seven matches.
The rest of Jersey's side will be made up from players from Jersey Athletic.
The team is the Championship club's second team, who play in the Zoo Sports Shield second team championship while Guernsey play in National Three London.
"Where the first-team guys are three levels higher than Guernsey, we'd expect the Athletic guys to be a couple of levels below it, so it should make for a very good contest and a very equal contest," Jersey chairman Bill Dempsey told BBC Radio Jersey.
"We will know at five o'clock on that evening whether this has worked or not. I think it will work. It'll make for a much more even contest, but we'll only know after the game.
"I played in the Siam Cup, this is my eighth year as chairman and I've always put huge importance on the Siam Cup and what it means to the island.
"We're still getting more people to come and watch the Siam Cup than any other game we play in. We've been getting over 3,000 people coming and there's huge buzz around the thing."
Jersey beat Guernsey 48-3 at St Peter last year.