Ignacio Lancuba: Argentina prop forced to leave Jersey for family reasons
Last updated on .From the section Rugby Union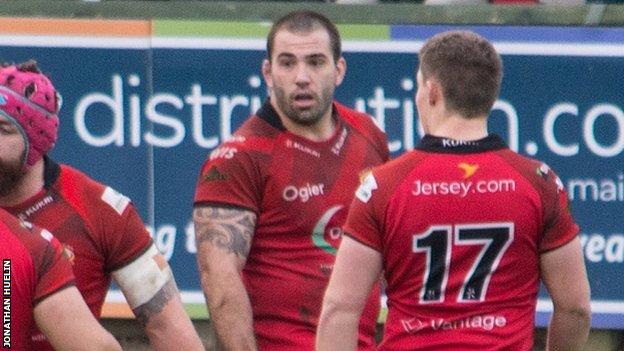 Argentina forward Ignacio Lancuba had to leave Jersey for family reasons, according to head coach Harvey Biljon.
"Nacho had agreed terms and signed his contract with us, a new two-year contract," Biljon told BBC Jersey.
"Unfortunately for Nacho there's been some personal circumstances back in Argentina that he has to go back and be with his family."
Lancuba battled with Sam Lockwood to be the club's starting loose-head this season, but both players are to leave after Lockwood agreed a summer move to Newcastle.
"Nacho has been someone who has developed immensely and probably the tough thing for Nacho is the natural progression of falling into the number one position," said Biljon.
"I think he's pushed Sam really hard over the last couple of years, and this was Nacho's opportunity to stake a claim for that number one shirt over the next few years and see if there was a Premiership opportunity for him at the end of that.
"It's unfortunate timing, but you've got to respect the man and how loyal he is and respect his morals about recognising his personal situation and he has to go and be with family."