Jimmy Tucker: Launceston head coach job 'brutally tough at times'
Last updated on .From the section Rugby Union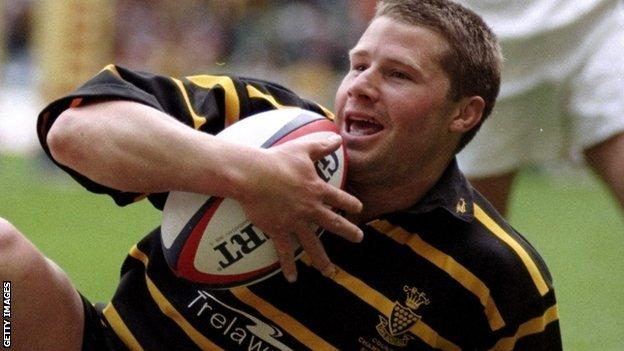 Launceston boss Jimmy Tucker says he has been surprised at how difficult his job has been at the relegated National Two South club.
The Cornish All Blacks have yet to win a game this season, were relegated last month and were crushed 109-0 at leaders Cambridge last week.
"It's been brutally tough at times," Tucker told BBC Radio Cornwall.
"Sometimes you feel like you're carrying the world on your shoulders, it's quite a lonely place sometimes."
Tucker was named as the club's new boss when Mike Lewis stepped down in November.
He is the third man to take the helm at Polson Bridge in the last 12 months, with former boss Neil Bayliss resigning in June after budget cuts.
Tucker, who spent 13 years at the club and in 1999 scored for Cornwall at Twickenham in the County Championship final, led Launceston to a draw with fellow strugglers Southend in his first game in charge, but it is the only time in 26 matches this season that the club have not been beaten.
But Tucker is hopeful that the club's fortunes can turn around in National Three South West next season.
"I've done it for the Launceston boys and to create a team that when they finish their playing careers they can be proud of their playing careers," he said.
"We all want to see the club having brighter times, bigger crowds, victories on the field and a clubhouse atmosphere that reflects the vibe of the club, that's what we're all aspiring for."