Laurie McGlone: Cornish Pirates forward says time is right to retire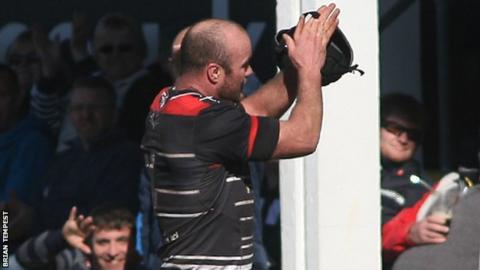 Cornish Pirates forward Laurie McGlone says the time is right to retire.
The 37-year-old received a standing ovation after his final home game as he prepares to return to his native New Zealand after a seven-year association with the Penzance-based club.
McGlone played 161 games and helped Pirates win the 2010 British and Irish Cup and reach two play-off finals.
"It's time for me to concentrate on things outside of rugby, like my family," he told BBC Radio Cornwall.
"I'll take them home to meet the rest of the family. It's sad to be giving up rugby, but I've had a great time and there's other things to look forward to in the future."
McGlone, who is a qualified land surveyor and is hoping to move into that line of work when he returns home, says he has a number of fond memories from his time at the Mennaye.
"Going up to Worcester on a Friday night and knocking them over with, what was on paper, a bit of a second string team was highlight," he said.
"Along with the British and Irish Cup final and the two Championship finals, the list goes on. We've had an awesome squad throughout most of the time that I've been here and I'm really privileged to have been part of it."