Launceston boss Jimmy Tucker happy despite derby loss to Redruth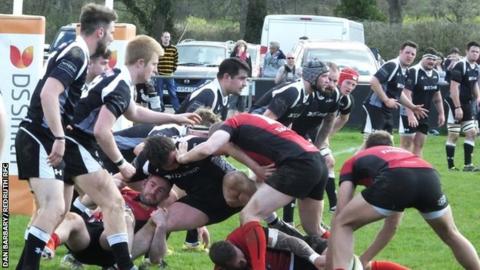 Launceston boss Jimmy Tucker insisted he was happy with his side's display despite losing the Cornish derby against Redruth 34-17 at Polson Bridge.
The Cornish All Blacks trailed 17-14 at half time and were 24-17 down with eight minutes left before late tries for Chris Fuca and Luke Jones.
"I was really impressed," Tucker told BBC Radio Cornwall.
"I asked them to put in a performance that they can be proud of, and they've done that and I'm really pleased."
He continued: "The two last scores at the end flattered Redruth, but I was pleased with how the boys played."
The defeat was Launceston's 28th in 29 games this season, while Redruth stayed fourth in National Two South and could still reach third place with a win on the final day of the season.
"We've been asking for heart and commitment all season long and maybe they haven't bought into that in the way I would have expected," said Tucker.
"But today they've got stuck in and they've seen the results that can be achieved, so we want to to take that through to next season."
Redruth boss Steve Larkins said he never expected the kind of large point haul other sides have registered against Launceston in recent weeks.
"The All Blacks weren't going to roll over and let us put 50 on them and it was the case," he added.
"We knew it would be a tough battle in the first 20 and if we could see that through we could get more tries.
"But it was such a stop-start game we couldn't get any real momentum and go forward."