Welsh rugby's six-point try trial not a success, says Llandovery coach
Last updated on .From the section Welsh Rugby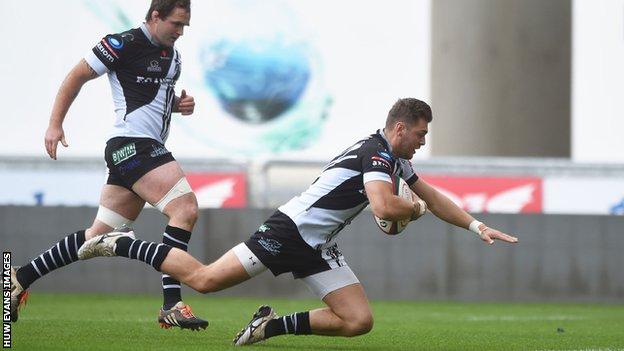 Rugby's six-point try experiment in Wales' Premiership has not been a success, says coach Euros Evans.
The World Rugby season-long trial also saw penalties and drop-goals reduced from three points to two.
The changes were meant to encourage attacking play, but Llandovery's Evans says that has not happened.
"There's been many more driving line-outs and penalties from driving line-outs which has slowed the games down," he said.
"That wasn't really the intended outcome of the trial."
Evans' Llandovery side finished second in the Premiership table behind Pontypridd, scoring 83 tries in 22 matches.
The rugby points experiment
Current scoring: Try - five points; Conversion - two; Penalty - three; Drop-goal - three.
Experimental scoring: Try - six; Conversion - two; Penalty - two; Drop-goal - two.
He believes that if the sport's governing body wants to continue the trial, they should look again at the scoring.
"It's for World Rugby to make the decision now whether we go on with it," he added.
"But our feedback is that it hasn't had the effect they were hoping for.
"I think three points for a drop-goal is important to keep in the game because if it's a two point game having that opportunity to drop a goal to win it adds to the excitement.
"And the drop goal is a very difficult skill in any case. So that needs to be looked at."