Siam Cup 2016: Jersey are underdogs in Guernsey insists Harvey Biljon
Last updated on .From the section Rugby Union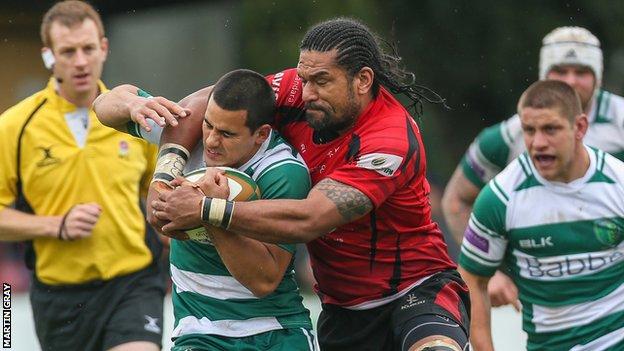 Jersey head coach Harvey Biljon says new eligibility rules mean his side are underdogs for the Siam Cup in Guernsey.
Jersey have dominated the annual match in recent years as the professional club, who play in the Championship, have taken on their amateur rivals, who are currently in National Three London.
For the first time this year Jersey's professional players must have been on the island for three years to play.
"I think for the first time we're probably the underdogs," said Biljon.
Guernsey have scored just three tries against Jersey in the last seven meetings between the sides and have not won the trophy since 2008.
Half of Jersey's side this year have not played for the professional team, while five of the replacements are also amateur players.
Jersey's Siam Cup dominance
2015 - Jersey 48-3 Guernsey
2014 - Guernsey 7-38 Jersey
2013 - Jersey 41-8 Guernsey
2012 - Guernsey 0-29 Jersey
2011 - Jersey 73-5 Guernsey
2010 - Guernsey 0-36 Jersey
2009 - Jersey 34-6 Guernsey
"We're going to play with a mixed team over in Guernsey in their backyard and it's a real opportunity for them," Biljon added to BBC Channel Islands News. "But at the same time this game isn't about rugby, it's about pride, passion and emotion.
"Whatever the result I'm sure it'll be a very competitive and enjoyable day for everyone."
Despite Jersey having a weakened team, Guernsey head coach Jordan Reynolds, who was part of the island setup when they last won in 2008, says Jersey will still have the edge.
"I feel it won't make a massive difference, they've still got some really quality players," he told BBC Radio Guernsey. "But the two clubs have worked really closely to sort this matter out and this year it's going to be a bit of a trial.
"I think Jersey still have a massive advantage, but we've still come to the conclusion that this is the perfect platform to start from and see where we need to develop it in the years to come, if we have to develop it.
"If Guernsey were able to do a shock win it might change the format again, so we'll just have to wait and see.
"We had success in 2007 and 2008 and we did it against a Jersey team who were very good, they had some pros in their side, and we managed to get those victories."
There will be live commentary of the game on BBC Radio Guernsey and BBC Radio Jersey from 14:00 BST on Saturday, 7 May.