Siam Cup: Guernsey boss Jordan Reynolds calls for purely amateur game with Jersey
Last updated on .From the section Rugby Union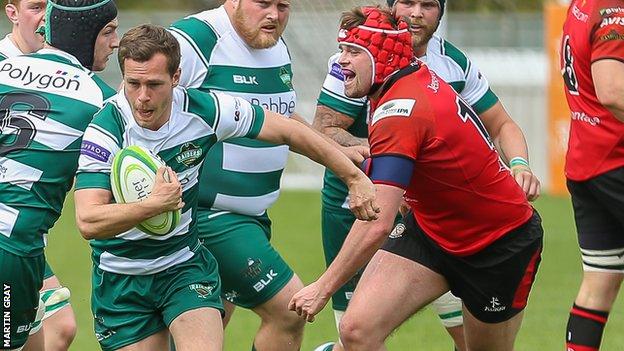 Guernsey head coach Jordon Reynolds says Jersey should not play any professional players in the Siam Cup.
Guernsey led 14-3 at half-time and their three tries matched the total they scored in the last seven years.
"I think the Siam should still be amateur," Reynolds said after the game.
"These guys are beasts of men and are paid to play the game," added Reynolds, whose side finished the season sixth in National Three London.
Jersey's Siam Cup dominance
2016 - Guernsey 19-33 Jersey
2015 - Jersey 48-3 Guernsey
2014 - Guernsey 7-38 Jersey
2013 - Jersey 41-8 Guernsey
2012 - Guernsey 0-29 Jersey
2011 - Jersey 73-5 Guernsey
2010 - Guernsey 0-36 Jersey
2009 - Jersey 34-6 Guernsey
"I thought we scored some good tries, but it is still pretty tough for us.
"Anyone can sit in the stands and watch the game, but unless you're out there with the boys and you know how tough it is [people's] opinions should be kept to themselves."
Jersey boss Harvey Biljon was forced to bring together a mixture of professionals who had been with Jersey for three seasons or more along with amateur players from Jersey Athletic.
"It's up to the committee members of both clubs to decide," Biljon said when asked about the new eligibility rules.
"But overall today was a very competitive fixture and I know this is only my second Siam in Guernsey, but the support today for both teams was fantastic."
Before the game Biljon felt that his side were the underdogs as they had trained just twice together.
"I honestly felt before the game it was Guernsey's to lose and ours to go out there and win," he said.
"The way the guys came together as one club I think was outstanding.
"It was a very different build-up to the game, it was relaxed, but they understood who they were representing, why they wanted to go out there and put in a performance."