London Sevens: Results for 2016 World Rugby Sevens Series finale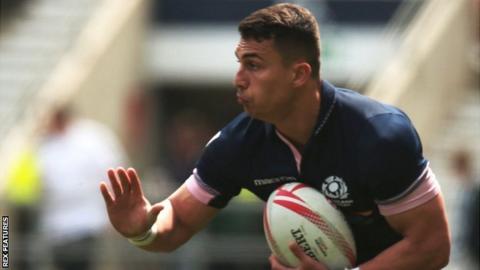 Scotland won their first ever round of the World Sevens Series as they beat South Africa in Sunday's final of the London Sevens at Twickenham.
Fiji had already ensured they would retain their overall title and they will go into sevens' maiden Olympic appearance as the World Series champions.
See full tournament results below.
Sunday, 22 May
Quarter-finals
Bowl quarter-final: Canada 19-7 Brazil
Bowl quarter-final: Kenya 19-21 Wales
Bowl quarter-final: Australia 17-12 Portugal
Pool quarter-final: Russia 17-22 Samoa
Cup quarter-final: South Africa 21-19 Argentina
Cup quarter-final: France 7-40 Fiji
Cup quarter-final: New Zealand 14-42 USA
Cup quarter-final: England 0-17 Scotland
Semi-finals
Shield semi-final: Brazil 5-38 Kenya
Shield semi-final: Russia 26-7 Portugal
Bowl semi-final: Canada 17-21 Wales
Bowl semi-final: Samoa 21-22 Australia
Plate semi-final: Argentina 31-5 France
Plate semi-final: New Zealand 35-10 England
Cup semi-final: South Africa 26-21 Fiji
Cup semi-final: USA 17-24 Scotland
Finals
Shield final: Kenya 31-7 Russia
Bowl final: Wales 24-19 Australia
Plate final: Argentina 14-29 New Zealand
Cup final: South Africa 26-27 Scotland
Third Place Play-Off
Fiji 19-26 USA
All times in BST
Saturday, 21 May
Pool A
Samoa 5-12 USA
South Africa 21-7 Canada
Samoa 19-24 Canada
South Africa 14-10 USA
USA 12-12 Canada
Samoa 0-22 South Africa
Pool B
Australia 22-10 Wales
Fiji 10-31 England
Fiji 42-5 Wales
Australia 7-10 England
Fiji 26-0 Australia
England 24-5 Wales
Pool C
France 14-14 Scotland
Kenya 22-17 Portugal
France 45-14 Portugal
Kenya 12-24 Scotland
Scotland 31-14 Portugal
France 29-12 Kenya
Pool D
Argentina 22-12 Russia
New Zealand 31-0 Brazil
Argentina 28-7 Brazil
New Zealand 33-10 Russia
Russia 14-5 Brazil
Argentina 14-14 New Zealand