Fiji win overall Sevens World Series title despite England loss
Last updated on .From the section Rugby Union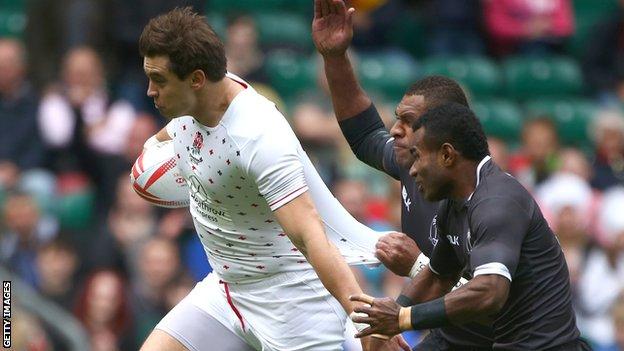 Fiji lost to hosts England in their first game at the London Sevens but bounced back to reach the quarter-finals and retain their World Sevens Series title in the process.
They beat Wales and Australia to finish second to England in Group B and cannot be caught in the overall standings.
England added a 10-7 win over Australia and 24-5 success over Wales to their 31-10 victory against Fiji.
England take on Scotland in Sunday's quarter-finals while Fiji face France.
South Africa will face Argentina in the last eight after winning all of their pool matches while the United States will play New Zealand.
Wales lost to Australia, Fiji and England to finish bottom of Pool B on Saturday.
Scotland beat Kenya and Portugal and drew with France to come second to the French in Pool C.
Rugby sevens will feature for the first time at the Olympic Games later this year in Rio.