Plymouth Albion: Jon Dawe and Seta Raumakita agree new contracts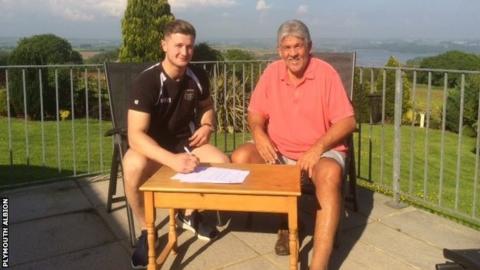 Plymouth Albion wingers Jon Dawe and Seta Raumakita have agreed new deals with the National One side.
Dawe, 22, played just five times in 2015-16 because of a knee injury but was part of the Cornwall squad that retained the County Championship title.
Fiji-born Raumakita has represented the Royal Navy and Combined Services.
"Last season there was a great atmosphere within the squad. With a number of players staying, we should do very well again," Dawe said.
Raumakita added: "When the Royal Navy team plays its normally on a Wednesday so that won't impact on my availability for Albion at weekends."