'Gregor Townsend's a very good coach but Vern Cotter going is a surprise'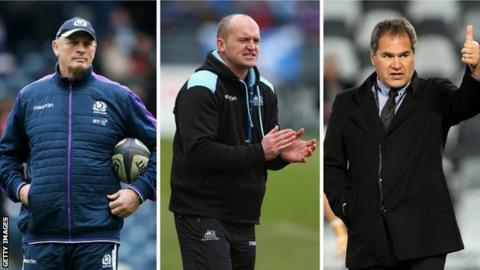 The changes announced by Scottish Rugby this week were as surprising as they were significant.
Many people had tipped Glasgow Warriors head coach Gregor Townsend as a future Scotland coach, but few expected him to take on the role in the near future. Fewer still expected him to be announced as Vern Cotter's successor 10 months in advance of assuming the role.
So who to replace Townsend as Glasgow coach? Again many expected a promotion from within the union, especially given the success Townsend has enjoyed since being moved into the role to replace Sean Lineen.
Instead it was the New Zealander Dave Rennie - whose stellar list of achievements includes two Super Rugby titles with the Chiefs - who will take on the top job at Scotstoun and look to build on Townsend's legacy.
BBC Scotland spoke to All Blacks legend Sean Fitzpatrick for his take on the changes that will take place next summer.
Townsend to replace Cotter in 2017
"It was a bit of surprise really. Vern Cotter has done a very good job, he's brought the team on.
"He's obviously a very good coach so I was a little bit surprised, but in saying that they obviously rate Gregor very highly. He's done a very good job with Glasgow and he'll be looking forward to moving into that (Scotland) job next year.
"It does make it difficult in the interim to announce it so early, with a year to go. It's maybe a bit uncomfortable in terms of Vern and what he's doing. Gregor's a very good coach but I'm a little bit surprised in terms of what Vern's done so far."
Dave Rennie to take over from Townsend
"He's done a wonderful job with the Chiefs. They were the under-achievers for many years. He won back-to-back Super Rugby titles with them.
"What we're saying more and more these days is the teams that play well and work out the opposition are the ones that have very good coaches. What I've seen of Dave Rennie over the last few years is that he's very structured and has full game-plans. He analyses the game very thoroughly, his man-management is very good.
"Super Rugby is a very long season and he manages his player numbers very well to get the best out of players. The Chiefs weren't a team of superstars, they had journeymen that did the job and he seemed to get the best out of players. It will be interesting to see what he can do with Glasgow."
Why is he swapping NZ for Glasgow?
"I'm a little bit surprised that New Zealand Rugby is letting him go really. I think Dave was hoping that he maybe would have had a crack at the All Blacks job next year if Steve Hansen wasn't going to re-sign.
"But I think with Steve signing (a new deal with the All Blacks until 2019), these guys want to gain experience. We've seen other New Zealand coaches coach at the highest level overseas then go home, so maybe it's an opportunity for Dave Rennie to gain a bit of overseas experience.
"He's a head coach, that's his job. I don't think it's a case of not wanting to be number two, it's that he wants to be number one. Hence why he's moved on.
"He's done a lot for the Chiefs, but there comes a time you need to venture out and challenge yourself and that's what he's doing."
Will he cope with northern hemisphere rugby?
"I think a lot of the southern hemisphere coaches don't fully appreciate how tough the rugby is up here in terms of the style of rugby that's played.
"It's very different in the southern hemisphere, hence why he's wanting to gain a bit of experience in the northern hemisphere. That's the same with the players. I'm very much in favour of the young guys coming over (to Europe) at an early age to gain experience.
"I'd imagine he would've had a good chat with Tom Coventry before he made this decision because Tom's been at London Irish and unfortunately didn't have a great year after having a very successful time with the Chiefs.
"It's a learning experience, but Dave Rennie is a wise man and he'll be coming into the job with his eyes wide open."