Sam Warburton backs Warren Gatland as 2017 Lions coach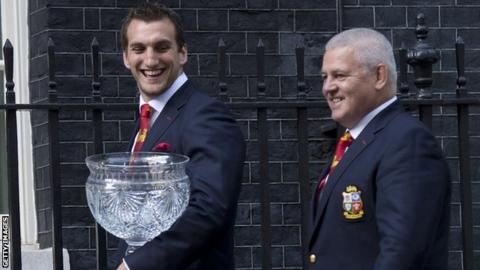 Wales captain Sam Warburton has backed Warren Gatland being named 2017 British and Irish Lions coach to New Zealand.
Warburton was captain as Gatland guided the 2013 Lions to a 2-1 series win over Australia. Gatland was forwards coach as the 2009 Lions lost 2-1 in South Africa.
Flanker Warburton said: "He brings experience and the fact that he's been on a winning Lions tour already."
Robert Howley is expected deputise for Gatland during 2016-17.
Warburton believes Gatland "has a head start" for the Lions role because of his presence on their past two tours.
"They were extremely unlucky not to do a bit better out in South Africa," said the Cardiff Blues player.
"So I think the one thing when I was on the Lions tour in 2013 was making sure everybody - this is what we were told as players - you appreciate the jersey and the history of the jersey.
"And I think Warren has got a bit of a head start from that point of view, having had two tours under his belt already."