What can Scottish football learn from Sweden's Stand up for Football project?

By Alasdair Lamont
BBC Scotland in Malmo
Last updated on .From the section Scottish
Could a Swedish football project help ease tensions between supporters and the authorities in Scotland?
Alasdair Lamont has been to Malmo to examine whether a similar approach could work in Scotland.
Stand up for Football
The relationship between Scottish football supporters and the authorities - football and otherwise - is at times fraught. Recent high-profile issues include the Scottish Cup final pitch invasion and subsequent skirmishes between Hibernian and Rangers fans, distasteful banners and effigies being displayed at the Celtic-Rangers game, where toilets were badly damaged and an ongoing debate over strict liability and the effectiveness of the Offensive Behaviour at Football Act.
Parallel situations undoubtedly exist across the world. In Sweden, where crowd violence had been a problem, a project called Stand Up For Football was introduced in 2012 to try to improve the relationship between supporters and the authorities.
What is 'Stand up for Football'?
Madeleine Odquist, project manager: "Funding was raised from a few enterprises to enhance supporter dialogue. They looked at Germany where they have the Supporter Liaison Officer (SLO) function and said 'we'll start funding a few of those positions in Sweden'. We've gone from zero to 38 educated SLOs in five years. It has enhanced the relationships between all the stakeholders within football."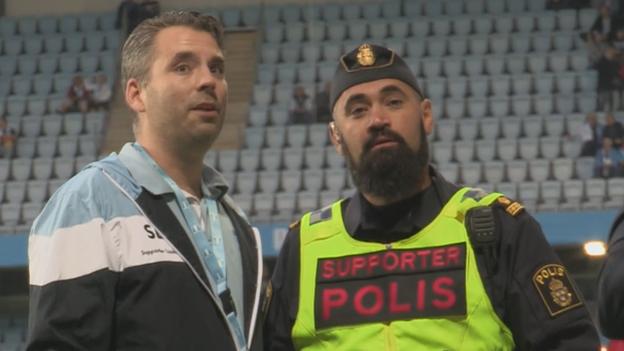 Pierre Nordberg, Malmo SLO: "My duty is to be a bridge from the supporters to the club and the club to the supporters and be up-to-date with supporter issues and what's happening around the club."
Lars-Christer Olsson, chairman Swedish Football League: "We have had a problem for a long time. The authorities always thought you could 'punish' the problem away. There was growing conflict between the authorities and big fan groups. If you change methodology, you have an opportunity to change the way people are behaving."
What is the benefit of the SLO?
Lars-Christer Olsson, chairman Swedish Football League: "Via SLOs we get much more knowledge about what is actually happening. Knowledge is always good if you would like to address something or try to change things. You can bring groups together who normally didn't speak to each other."
Gorgin Shoai, Malmo police: "We have more access to the football club. If we have a problem with supporters, I can contact the SLO directly and tell him about the problem and he can speak to the club or supporters. Recently we had the problem of supporters throwing bottles onto the pitch and for this game supporters themselves have said if anybody does that, we're going to take them out of the crowd. That's perfect for us. That's what we call self-policing and we hope for more of that."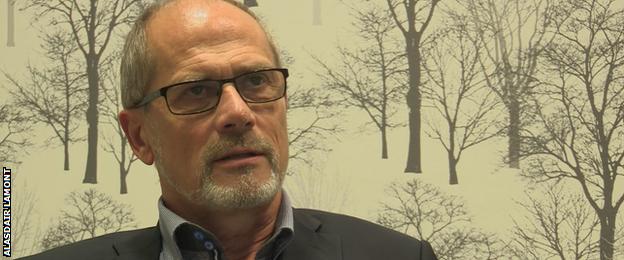 Madeleine Odquist, project manager: "From the league perspective, it's been highly valuable to understand more about the supporter culture and use the SLOs and their knowledge in a positive way and try to enhance the supporter culture."
Pierre Nordberg, Malmo SLO: "Supporters are the heart of football - that's why it's so big. The supporter's voice has to be heard. We have had an increase in crowds in the league. I don't know if this has anything to do with the SLO but I think so. The SLO helps to create an atmosphere and increase the value of the league's brand, so of course we have done something right."
What other improvements have been made?
Madeleine Odquist, project manager: "In 2015 we had a record number of supporters, we have less violence during our games and still a wonderful atmosphere. The goal of the project is to create a welcoming, safe but also spectacular atmosphere."
Gorgin Shoai, Malmo police: "The experience has been very good for us. I'm a spotter - supporter police - and I work on that 100%. Has our relationship improved? Yes maybe not for the main police officers who work at the game but for the officers who are involved more closely with the club and supporters.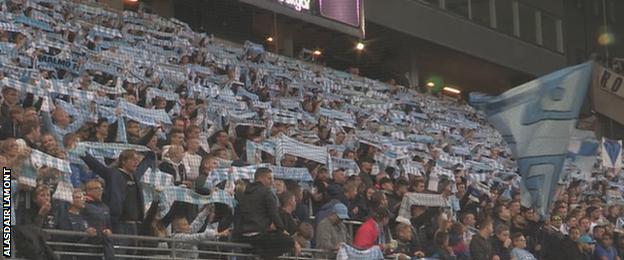 Pierre Nordberg, Malmo SLO: "The main challenge is to balance the different perspective of different interest groups. It's very hard. Like in a company, it's impossible to be the middle manager, to keep everyone happy. You have to weigh up what they want and see what's best for the club. You listen to the ultras when it comes to the atmosphere because they are the 'engine' of the songs, so if they have an opinion about how we can help them to increase that maybe I listen to them more."
Lars-Christer Olsson, chairman Swedish Football League: "If you think you can force change into groups like ultras then you (could) question what we are doing. We are not lenient. We only have a different way of addressing the matter. We think that dialogue is a more fruitful way of changing things than banging them on the head with a stick. We are heading in the right direction."
Would it work elsewhere?
Madeleine Odquist, project manager: "We would love to talk to other leagues and share our experiences. We hope more leagues buy into such a project. We think it's valuable for the whole football family."
Lars-Christer Olsson, chairman Swedish Football League: "Yeah, I think so but the important thing is you have to start by identifying the situation in the specific country because it could not be copy and paste. The function of the SLO should work in any environment."
Gorgin Shoai, Malmo police: "I think this can work in any country. It is the best way forward because if we in the police don't do the work with the club and the supporters, we don't have any future. We must listen to the supporters and they must listen to us, so we must be closer to each other."