Newport Gwent Dragons: Kingsley Jones' friends reunited with Russian foes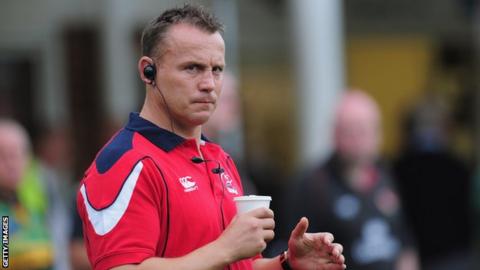 European Rugby Challenge Cup Pool 3
Venue: Trud Stadium, Krasnodar Date: Saturday, 22 October Kick-off: 13:00 BST
Coverage: Live scores on the BBC Sport website
For Worcester, travelling to Russia to play a European Challenge Cup match was a trip into the unknown that ended in a 19-12 defeat by Enisei-STM.
However, there should be fewer surprises in store for Newport Gwent Dragons when they take on the Russian champions on Saturday,
Because Dragons head coach Kingsley Jones reckons he knows the opponents better than he knows his own squad.
Former Wales captain Jones was in charge of the Russian national team from 2011 to 2015 and capped or dropped as many as 20 of the Enisei squad.
"I lived 23 weeks of the year with these guys for three and a half years," said Jones.
"I know them better than I know any players. I know their strengths I know their weaknesses.
"They'll be spurred on by their coaches particularly playing against the Dragons. They'll be wanting to show me that they are playing well.
"I look forward to seeing them, there's some really good guys there and I'm pleased to see them do well."
Less pleasing for Jones is the convoluted journey from east Wales to the former Eastern Bloc including a two hour wait between flights and at least three hours on buses en route to the southern Russian city of Krasnodar.
But even that could be worse. Enisei are actually based in Siberia - the city of Krasnoyarsk to be precise - where the weather would be considerably less hospitable than Krasnodar which is 70km from the Black Sea.
Connacht had to play there in November 2015 and a photograph of their replacements's extreme measures to battle the cold were a hit on social media.
With the venue and the temperature less forbidding, Jones is concentrating on Dragons following up their opening round win over Brive with a second victory.
His worry, however, is while there are many players on the opposing team who might thank him for giving them a chance on the international stage, there are others itching to prove that he was wrong to drop them.
"Some of them I gave their first caps so it will be nice to see those guys, but I've probably dropped most of them at some time or another - particularly half backs," laughed the incurably affable Jones.
"Fly-half Yury Kushnarev is the highest point scorer in Russian history, a fantastic place kicker, but I used to get frustrated with parts of his game.
"Alexey Scherban at number nine I picked and dropped and picked and dropped only because he was a young fella - very skilful - but I had more experienced players available.
"But Scherban is the number one in Russia now and he's a good player."
Falling into the other camp should be wing Denis Simplikevich who Jones gave a chance at the age of 19 in the 2011 Rugby World Cup and rewarded his Welsh boss with a try against Australia.
"I'm sure he'll be pleased to see me," added Jones. "He scored three tries in the 2011 World Cup. That was a punt on my part so it will be nice to see them all."
Definitely on the Dragons' side will be former Russia captain Alexander Voytov who will be acting as the team's liaison and interpreter, "not that I need one," joked Jones.
"He'll make sure everything's as it should be. Strange country, strange place, so it'll be nice to know what's going on."
Jones is under no illusion that his team - without many of their front-line players including Wales internationals Hallam Amos and Tyler Morgan - will face a tough examination.
"They've recruited better players in Russia to play for them. So it's almost like a national team strengthened by a few foreign players," he said.
"But it's fantastic for my players.
"There's something mysterious about Russia. People ask me wherever I go and they are interested and it's interesting for the players. It's a good experience."