Champions Cup: Exeter must beat Ulster to get European lifeline - Rob Baxter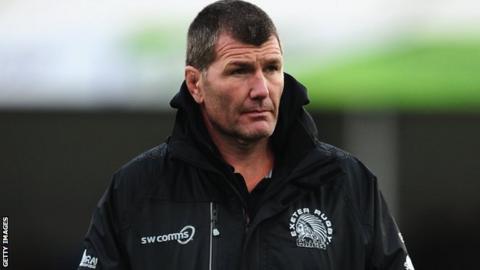 Exeter must beat Ulster to have a chance of making the knockout stages of Champions Cup, says boss Rob Baxter.
The Chiefs, who reached the last eight for the first time last season, lost 35-8 to Clermont Auvergne in their first pool game.
"Before the Clermont game we had the chance to win at home and then go to Ulster to try to take control of the pool," Baxter told BBC Sport.
"Now we've got to go to Ulster and confirm a lifeline opportunity."
Last season, the Chiefs topped their pool on points difference after a dramatic final round of games.
Bordeaux's win at Clermont saw the three sides all tied on 16 points and Exeter go through on score difference.
"The progress we made last year on 16 points as winning a pool is going to be pretty rare - in or around 16 or 18 points gives you a great chance of going through as a runner-up," said Baxter.
"If we can get a result in Ulster we're nearly back on par because we've still then got two more home fixtures and then we've still got to snatch something away form home again."