BBC Sport - Joe Schmidt's new Ireland contract a 'massive boost' says captain Rory Best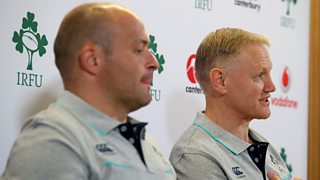 Schmidt's new Irish deal is 'massive boost'
Ireland captain Rory Best says Joe Schmidt's decision to remain on as the country's coach until at least the 2019 World Cup is great news for Irish rugby.
"You come across world-class coaches not very often in your playing career," said the Ireland captain.
"Joe Schmidt is someone who has delivered success not just in France, not just with Leinster but internationally, which is very hard to do and he has done it consistently at international level.
"For me it's a massive boost for Irish rugby going forward that he is going to be there until at least the next World Cup."
After taking over as Ireland coach in 2013, Schmidt guided Ireland to back-to-back Six Nations titles in 2014 and 2015 and his side clinched their first Test win in South Africa in June.