Bill Dempsey resigns as Jersey director of professional rugby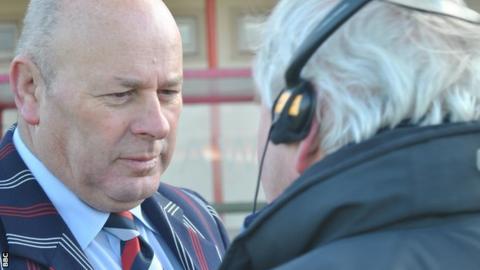 Bill Dempsey has resigned from his position as director of professional rugby at Championship club Jersey.
Dempsey only took up the role in May after eight years as chairman, during which time he led Jersey from amateur rugby union to the professional game.
The news comes just days after the Reds admitted financial problems.
"I've left because I think the time is right," he said. "After 34 years, and Twickenham and promotions, the last thing I feel is leaving under a cloud."
He told BBC Radio Jersey: "Do I want to be part of what happens in the future of the club? I want to go and watch rugby, enjoy it, go and have lunch.
"Do I want to spend as much time as I did in the past? No. Do I want to spend as much time as I did in the last two months. No."
"Put that into the equation, along with promising my wife and two kids I'd spend less time at the rugby club over four or five years. It was the right time to do it."
On Wednesday, Jersey announced that they were selling assets - such as the clubhouse and pitches - for £1.5m to survive.
Chairman Mark Morgan said: "To lose someone of Bill's great experience is a disappointing development for the club, but I respect his decision.
"I would like to thank him for the major contribution he's made. I hope that he will still be a familiar and regular face at St Peter on matchdays and at other club events."
Jersey are eighth in the Championship table having lost five of this season's eight games.