Japan make four changes to their side ahead of Wales Test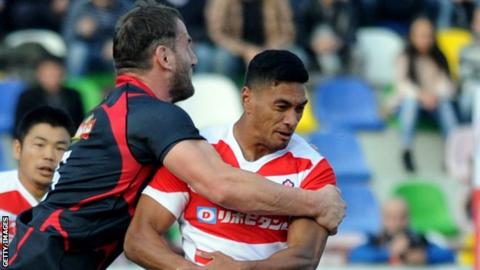 Japan have made four changes to their team to face Wales on Saturday
The Cherry Blossoms go into the match in Cardiff off the back of a 28-22 win over Gerorgia in Tbilisi.
Wing Lomano Lemeki has returned home with a leg injury and is replaced by Akihito Yamada while Kenki Fukuoka takes Karne Hasketh's place on the other wing.
In the forwards, Kensuke Hatakeyama replaces Heiichiro Ito at tight-head while Samuela Anise takes Kotaro Yatabe's place at lock.
"It's our strongest team even though we've got a lot of guys left at home but certainly from the players selected to come on tour, it's our strongest team," Japan coach Jamie Joseph told BBC Wales Sport.
"I'm a realist and I know it'll be difficult but having said that, we've got a couple of plans and I think we can create some pressure.
"If we're able to do that the boys will score some tries and it's a funny thing sport and people do some funny things under pressure. Ideally we'll play an expansive game and score some tries.
"A lot of that comes from set-piece and that's the big area we've been working on this week and if we get some quick ball I'm confident we will score some tries."
Japan: Kotaro Matsushima, Akihito Yamada, Timothy Lafaele, Harumichi Tatekawa, Kenki Fukuoka, Yu Tamura, Fumiaki Tanaka; Satoshi Nakatani, Shota Horie, Kensuke Hatakeyama, Kyosuke Kajikawa, Samuela Anise, Malgene Ilaua, Shunsuke Nunomaki, Amanaki Mafi
Replacements: Takeshi Hino, Koki Yamamoto, Heiichiro Ito, Uwe Helu, Shuhei Matsuhashi, Yuhimaru Mimura, Keisuke Uchida, Amanaki Lotoahea