Cornish Pirates beat Doncaster 36-25 to register rare Yorkshire win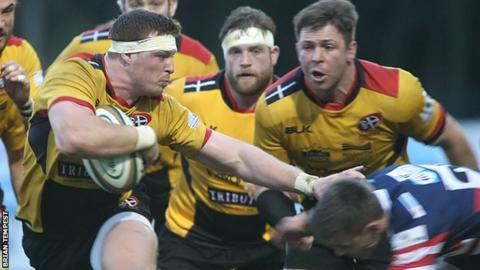 Cornish Pirates coach Gavin Cattle was pleased to have seen his side win at Doncaster for just the second time since 2011 after a 36-25 win.
Toby May, Tom Duncan and skipper Chris Morgan scored tries for the Pirates as they moved up into sixth place in the Championship, a point off their hosts.
"I'm really pleased with how they stuck to it," Cattle told BBC Radio Cornwall.
"We've been up here on the wrong end of a result here lots of times, so it's another good building block."
Doncaster outscored the Pirates by four tries to three, but six Laurence May penalties ensured they ended a three-game losing streak.
"I'm really pleased with how we stayed disciplined in defence, we didn't give them many easy outs," added Cattle.
"There were a couple of learning moments in terms of game management where I felt we could have been a lot more comfortable, but overall I'm very pleased to come to Doncaster and win."