BBC Sport - Eddie Jones: England head coach dreams of 'perfect' rugby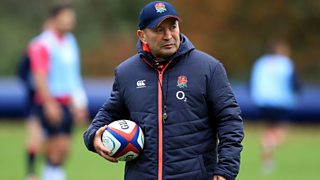 Jones dreams of 'perfect' rugby
England head coach Eddie Jones tells Matt Dawson's Rugby Show about his dreams of "perfect" rugby and reveals he has spoken to his team about Romanian gymnast Nadia Comaneci's perfect 10 at the 1976 Olympics.
The Australian says "no-one thought you get could 10 out of 10 in gymnastics. Well, no one thinks you can play the perfect game of rugby, but why not aspire to play the perfect game of rugby? What a great dream to have."
This clip is originally from 5 live Sport on Thursday 1 December 2016.
Listen to live coverage of England v Australia on BBC Radio 5 live on Saturday from 14:00 GMT and watch highlights on BBC Two from 18:00 BST.
Top videos