George North: Northampton Saints wing's concussion panel review due next week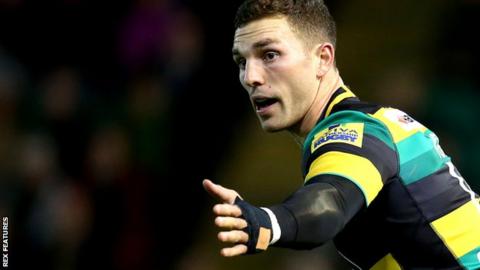 The concussion panel review into the management of Northampton wing George North's head injury will come to its conclusion early next week.
TV replays appeared to show North lying motionless after a fall in Saints' game with Leicester, but he returned to play after passing a pitch-side assessment.
Northampton said they had not had access to full footage of the incident.
A concussion review group was formed to investigate the handling of the case and if Saints have a case to answer.
A panel representative visited Northampton on Friday to discuss the incident with the key people involved.
It is understood the panel are reluctant to rush a "very rigorous" process.
The Concussion Management Review Group (CMRG) comprises RFU's director of professional rugby, Nigel Melville; Phil Winstanley, Premiership Rugby's rugby director; and an independent chairman, Dr Julian Morris.
The group could decide to issue a warning or even recommend a misconduct charge against the club or an individual.