Darran Phillips: Scarlets chief executive to leave in December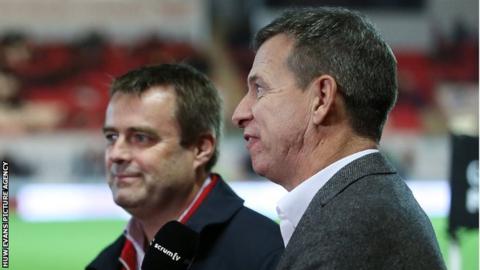 Scarlets chief executive Darran Phillips will leave the region at the end of December.
The Scarlets will not appoint a new chief executive, having restructured their management team.
Jon Daniels continues to oversee rugby matters, while Phil Morgan is in charge of commercial and business matters as chief operations officer.
Phillips had been in the role since 2014, succeeding Mark Davies, now chief executive of Pro Rugby Wales.
Before joining Scarlets, Phillips worked for companies such as Zurich Financial Services and Threadneedle Investments.
"I have very much enjoyed my time at the Scarlets and it's been a pleasure to have been working back in Wales," said Phillips.
Scarlets chairman Nigel Short added: "We would like to thank Darran for his dedicated work over the last two years, in particular for the significant increase in sponsorship numbers and revenue that he has driven over that time.
"We wish him well for the future."