George North: Alex Corbisiero asks players to be 'stronger voicing frustrations'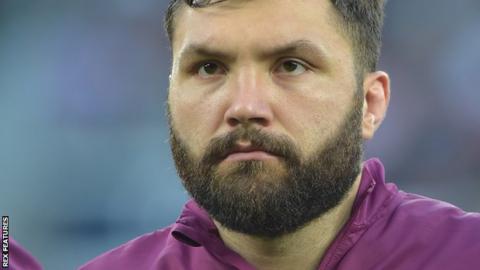 The players' union must have a stronger voice in order to protect the welfare of rugby union players, says ex-England and Lions prop Alex Corbisiero.
Ex-Saracens captain Alistair Hargreaves raised the issue of player welfare, describing the report into George North's head injury as "a disgrace".
Corbisiero, who played alongside North at Northampton, was forced to retire at the age of 27 because of injury.
"I can understand why some players are outraged and frustrated," he said.
Corbisiero told BBC Radio 5 live that players had a big role to perform in tackling the issue through their union, the Rugby Players' Association (RPA).
He said: "There is a lot more than can be addressed and prioritised, and as a player group we need to be stronger voicing these frustrations.
"The rugby players going forward need to recognise their collective unity is their real strength in tipping the balance in the areas they want to fight.
"It's the players who are going to have to unite and make a shift to get a lot of these things done."
Wales wing North was injured after he fell in a mid-air tackle playing for Northampton against Leicester on 3 December, but passed a head injury assessment and returned to the field of play.
An investigation into the handling of North's injury by the Concussion Management Review Group (CMRG) ruled the Saints medics should not have allowed him to return, but opted not to punish the club.
The RPA described the episode as a "significant failing", and said sanctions would have sent a "clear message", but the union also welcomed the recommendations outlined in the report.
Corbisiero, who won 19 caps for England and starred for the British and Irish Lions in 2013, believes the RPA should have far greater influence to hold the sport's governing bodies to account, as is the case in American sports.
"The player power in these sports is huge," Corbisiero said.
"You have seen these changes in the NFL, whether it's dealing with concussion, limiting contact in training, or the collective bargaining power they hold.
"It's very, very impressive. You would be silly as a player [in the UK] not to want to emulate that."
Corbisiero also feels there is an inconsistency in rugby's disciplinary process. While players' actions are often judged on outcome not intent, the opposite has been the case with the review into North's injury.
While deciding that Northampton made mistakes, the panel chose not to punish the club because the welfare of the player was "always at the centre".
Corbisiero, who is now a pundit with NBC and hosts the Scrumdown podcast, added: "As a player you make a split-second decision, and it is judged not on intent, but outcome.
"Whereas this seems to be judged on a different scale, and they have been cleared because there wasn't intent. But the outcome was the same."
Hargreaves on 'depressing day for rugby'
Hargreaves, 30, had to retire in October because of a concussion injury.
"Is that what we call player welfare? What a depressing day for rugby," said the former South Africa international.
"[The] Decision made by CMRG is a disgrace."
Hargreaves suffered a number of concussions in the last two seasons of his career, and was given medical advice to give up the game.
'I'm very surprised' - Moody
North had a six-month spell out of the game in 2015 following a spate of four blows to the head in five months.
And speaking on BBC Radio 4's Today show, former England flanker Lewis Moody has also been critical of rugby authorities for not sanctioning Northampton.
Moody said: "For there to be an outcome saying he shouldn't have been allowed back on the pitch, but for the club not to have been sanctioned - what message does that send to the other clubs?
"There clearly needs to be a review of the protocols in place for those head assessments. I'm very surprised that there's no sanction given to Northampton."