Chris Morgan: Cornish Pirates' high-tempo game is paying off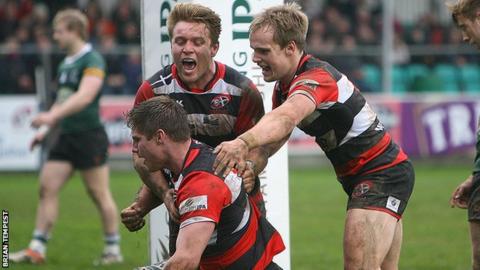 Cornish Pirates captain Chris Morgan says the side's plan to play a faster-paced game is paying off.
The Pirates have won three of their last seven games and are only one point and one place outside the Championship play-off places.
But Three of their four defeats have come to runaway leaders London Irish.
"We're trying to play at a bit more of a tempo, it suits us with the players we've got and I think it's coming off," Morgan told BBC Radio Cornwall.
"It's taken us a while to get into our straps and we're creating a lot of opportunities, but we've seen that we've not finished all those opportunities to date."
Morgan said the club's surprising loss at home to Richmond at the start of last month helped the squad appreciate they must be more disciplined.
"Richmond was a watershed moment for us realising how many penalties we gave away and how inaccurate we were in the opposition 22, it came to a head at that point and we've tried to rectify that," Morgan added after the New Year's Eve win over Nottingham.
"Today we still showed glimpses for a 15-minute period, but we were a lot better and that got us the victory the boys ultimately deserved."