Six Nations 2017: Jonny Gray - Scotland's unassuming hero

By Tom English
BBC Scotland
Last updated on .From the section Scottish Rugby55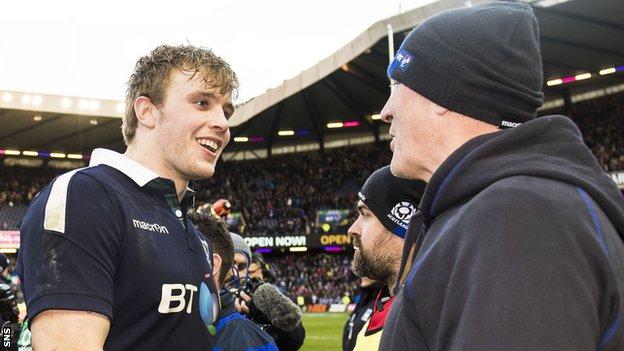 Six Nations: Scotland v Wales
Venue:
Murrayfield, Edinburgh
Date:
Saturday, 25 February
Kick-off:
14:25 GMT
Coverage:
Live on BBC One, S4C, BBC Radio Wales, BBC Radio Cymru, BBC Radio Scotland & BBC Sport website and BBC Sport app, plus live text commentary
If he reads this, which he probably won't, Jonny Gray will hate it. He'll hate the fuss and bother, the compliments, the chat about his burgeoning reputation, the stuff about his work-rate and his tackle stats and the talk about the Lions. Above all, he'll hate the talk about the Lions.
We know this because when you mention the Lions and his prospects of selection for the summer tour to New Zealand he bows his head and says: "No, no, no" as if embarrassed. No what? Just no.
Many will already have him on the plane, but these things are never straightforward and you could argue that never in the history of the Lions has the position of second row been so strong and, therefore, so unpredictable.
"No, no, no." Actually, he's right. Why go there? Why even think about it when the competition is so savage?
On Saturday at Murrayfield there'll be five second rows who deserve to be in the conversation - the two Grays (Jonny and his older brother Richie), Alun Wyn Jones (the only certainty), Jake Ball and Luke Charteris. England can offer up another four names - Joe Launchbury, Courtney Lawes, George Kruis and Maro Itoje. Ireland can put in two - Devin Toner and Donnacha Ryan, so immense in victory when Ireland beat the All Blacks in Chicago in November.
That's 11 players with probably just five slots available. Cruel doesn't cover it.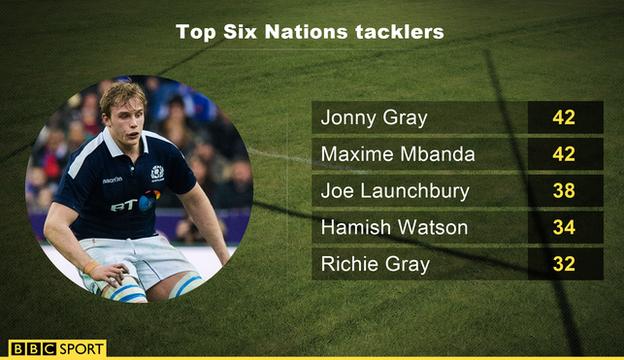 Gray brings all sorts of things to the table. He's joint leading tackler in this season's Six Nations and the leading tackler in this season's Champions Cup. Against France in Paris he made 15 tackles, against Ireland in Edinburgh he made 27. This is the stuff of geeks but it's worth crunching these numbers to get an angle on how effective this 22-year-old is.
He's played 30 times for Scotland and a total of 1,953 minutes. He's made 382 tackles at Test match level and has missed just eight. He has a 98% tackle success rate. And that's just one of the facets of his game that is making him one of the most talked-about young players in Europe.
Gray would rather speak about family and responsibility. He was not born into rugby. He went to a regular school, in a regular area in Glasgow. No silver spoon, no easy leg-up. He talks about his late grandmother, Jean Walker, as one of the great influences of his life.
"She was the rock of our family," he says. "She taught us all that if you want to achieve something then you had to work really hard to get it. That was instilled in Rich before me.
"I used to watch him playing for Glasgow when I was younger and I'd see how hard he worked, how he was doing extra fitness sessions, extra speed sessions, how he changed his diet, how he lived. I've been very lucky to be able to learn from my brother and from guys like Al Kellock, my old captain, at Glasgow. I've learned from a lot of people. I've still got loads to learn."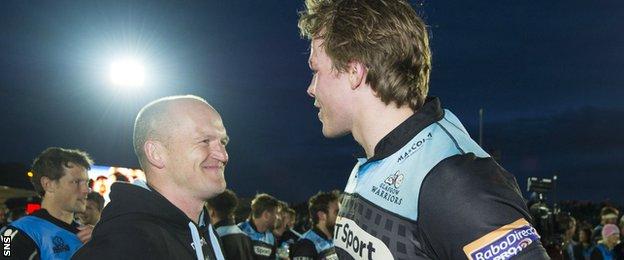 This isn't false modesty, this is a genuine discomfort about the hype and hoopla that continues to surround him. You ask which would he rather face - an in-depth interview with a journalist or an almighty tackle from an 18st prop and he smiles. "Neither," he says. No offence meant and none taken. That's Jonny.
Kellock, now on the commercial side of the business at Glasgow, remembers when he first heard about the younger Gray. "Richie told me," he said.
"Richie doesn't say a lot either, but he told me one day about his brother, who was about 14 or 15 at the time. Richie said, 'He'll be a different type of player to me, different body shape, but he'll be good'. He wasn't going overboard. They don't do that, these lads. They're very, very grounded. But it stuck with me. I waited for the second Gray brother to arrive on the scene and, sure enough, he did.
"I've been around Jonny a lot. He's like a human sponge for information. I think I knew he was going to become an exceptional player back in 2013. There's a game that stands out for me - Toulon away in Europe. We spoke before and I said to him that if you looked at all the great players they always stepped up for the really big games and that one against Toulon was a really big game.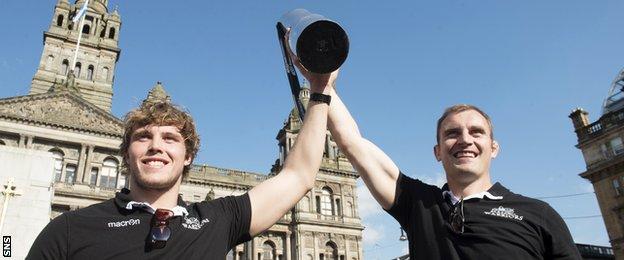 "We were well beaten in the first half but were good in the second and Jonny was terrific all the way through. He was only a kid. I chatted to him in the airport for at least an hour on the way back and he was devastated. You'd have totally understood if he was buzzing because of his own performance, but he wasn't. It was all about the team. He got the team ethic, right from the start."
Gregor Townsend made him captain at Glasgow, not just because of his ability but because of his standards, his constant striving to be better.
"He's getting better all the time," Townsend said. "His understanding of calling the line-out, understanding his own strengths, the strengths of the players around him, his work at scrum, his work at line-out drive, his work at drive defence. These are parts of second-row play that maybe don't get seen as much as tackling and ball-carrying, but he's really improved.
"He's always been somebody who wants to add something to his game, it might be footwork, little short passes, restarts, charge downs. Everybody talks about his defence, but the thing that has improved most is his tackle dominance.
"The tackle count is phenomenal but he's using much more aggression in the tackle. And his speed off the floor is exceptional. If you're getting those tackle numbers then you're not spending much time on the floor. You're getting up to carry, getting up to tackle, getting up to work. His standards are phenomenal."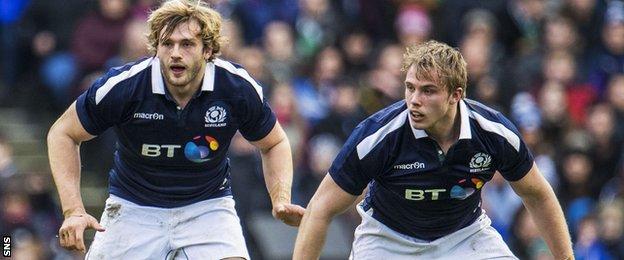 Gray is not slow to engage in a bit of gently mocking humour. "I'm not the best at talking," he smiles, but he's getting better. "Some guys are great at it, but I'm not the best at that sort of stuff."
The curious thing, though, is that he has a presence - and it's not just a physical presence. He has an indefinable quality and when you mention it to Townsend and Kellock they know exactly where you're coming from.
"There's something about him," said Townsend. "Many captains have been like that. Jonny is in the mould of a Gary Armstrong. Gary was our captain when we won the championship in 1999 team and he probably didn't say any more than he would have if he wasn't captain, but you'd follow him all day. He had that quality.
"Martin Johnson is another one. I was only captained by him with the Lions in 1997 and it was early in his captaincy days. He didn't say much, but he knew his rugby, he was tough and he was a brilliant leader by example. Jonny is one of those captains."
Kellock calls Gray the type of character that you'd "run through a brick wall for, only to realise that he'd run through it before you".
The boy himself? He's got some parting words about the "living legend" Alun Wyn Jones and the "class" that is Ball and Charteris. He's played against them all for Scotland in the last two seasons and will do so again on Saturday. He has nothing but respect for them. The feeling, you would have to imagine, is mutual.