Rob Baxter says Exeter Chiefs need rest after 'kick in backside'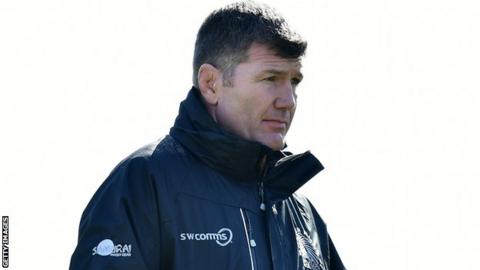 Exeter Chiefs head coach Rob Baxter says his players deserve their upcoming weekend off to celebrate some of the results they have had this season.
The Devon side, second in the Premiership, stumbled to a bonus-point win over Sale on Saturday.
"I'm kind of pleased that it should be a bit of a kick in the backside, but without us losing any points," he said.
"We haven't had a weekend off since the very first week of the season now, for 30 weekends."
As well as their 18 league games, Baxter's side have competed in the European Champions Cup this term and reached the Anglo-Welsh Cup final.
Leicester are the only other Premiership side not to have had a spare week all season.
"We need a bit of time just relaxing and enjoying ourselves because, although we've had some good results, have the lads really been able to celebrate them? Probably not," Baxter added to BBC Radio Devon.
"Now they genuinely can, and then we can move on.
"If we're not prepared to set ourselves some higher standards [than the Sale match], we're going to have some tough games up ahead."