WRU in 'embryonic' talks over temporary Cardiff Blues takeover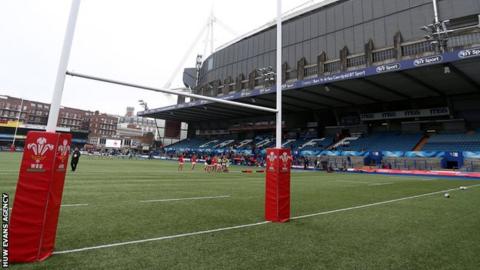 Welsh Rugby Union (WRU) chief executive Martyn Phillips says they are in "embryonic" talks over the possibility of taking over Cardiff Blues.
Phillips spoke after a vote paved the way for the WRU to take over Newport Gwent Dragons and buy Rodney Parade.
"There is nothing particularly detailed yet and there will be many twists and turns," Phillips told BBC Radio Wales.
"Even if something is done it is not obvious to us yet what that might be. That conversation is embryonic."
Blues' board wants the governing body to assume responsibility for all matters on the field while a proposed Arms Park stadium revamp is under way. That could include taking over the contracts of all playing and coaching staff under a new subsidiary company.
It is unclear whether any temporary agreement would become permanent.
Arms Park redevelopment
Blues want to redevelop their Arms Park home into a 15,000-capacity stadium and need to extend their lease from Cardiff Athletic Club (Cac), which ends in January 2022, to do so.
The plans include a retractable pitch and sliding roof so the stadium can be used as a concert venue, as well as building an exhibition centre, a hotel and flats.
Cac's agreement is needed to allow the redevelopment to go ahead.
It is a body made up of Cardiff tennis, bowls, hockey and cricket clubs which has a clubhouse at the Arms Park.
Blues chairman Peter Thomas told Walesonline: "We have said we want the WRU to babysit the Blues as a franchise for the foreseeable future.
"Now it may well be that will be a permanent arrangement and the governing body will take permanent control of the Blues as a region, as it is doing with the Dragons."
'Twists and turns'
Phillips said: "They have had a conversation with us and they have said 'we might need a different kind of support'.
"The Blues have potential property so they have had a couple of conversations with us over the last couple of months.
"There is a huge amount of detail to work through there and it will be weeks if not months before how best we can to support the Blues.
"I definitely don't want us to get ahead of ourselves on that."
Documents seen by BBC Wales Sport show the WRU presented plans in January to take shared control of all four regions - Blues, Ospreys, Scarlets and Newport Gwent Dragons.
Blues endorsed the plans, which did not receive unanimous support from their fellow regions.
That prompted Blues to seek their own agreement with the WRU.
Regions 'need different' kinds of support'
Phillips believes the WRU's takeover of Dragons can bring them and fellow regions Blues, Scarlets and Ospreys and the governing body "closer together".
He added: "They are all in slightly different places and need different kinds of support.
"We need to explore what could happen to other regions.
"We think the best model for Welsh rugby is the combination of union funding and private money. The Ospreys and Scarlets are on that model and doing particularly well.
"We are working to help all four regions to the next level."