County Championship: Cornwall's Graham Dawe fears backlash if team loses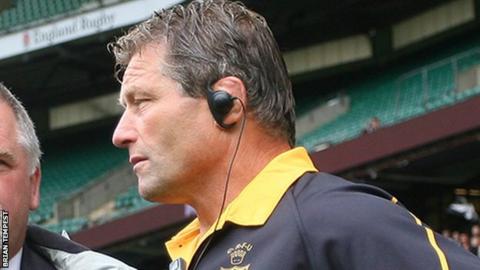 Cornwall head coach Graham Dawe says he will be made to "walk the plank" if his side fail to reach a fifth consecutive County Championship final.
A 56-11 win at Devon on Saturday means they will reach the Twickenham final if they beat Hertfordshire on 20 May.
"We always sneak it against Hertfordshire, and I hope we sneak it again," Dawe told BBC Radio Cornwall.
"I was fortunate enough to be born in Devon, but the Cornish are very kind - they've sort of half-adopted me."
Cornwall are a point clear of Hertfordshire in the south section heading into the last pool match, meaning a draw in Camborne would be enough.
Only the pool winners will make it through, with Lancashire or Yorkshire likely to qualify from the north section.
"I'm not sure they've [Cornwall] completely adopted me, because if we lose one game I think they'll make me walk the plank out in the sea," Dawe joked.
"That's the way it goes - that's the territory. The Cornwall public are very passionate about their rugby.
"I just hope this competition stays alive and it doesn't become meaningless, because it's so important for a county the size of Cornwall."