Kyle Sinckler: Lions prop says Adam Jones has changed his life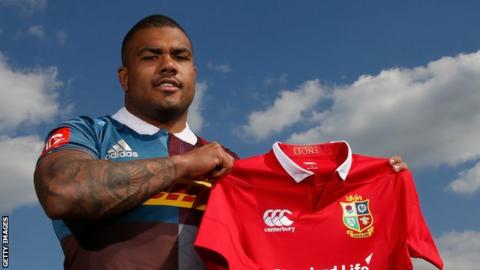 Lions and England prop Kyle Sinckler says the effect his Harlequins team-mate Adam Jones has had on him is life-changing.
Jones won 95 caps for Wales and played in five Tests for the Lions across their tours of South Africa in 2009 and Australia in 2013.
Sinckler has played with Jones since the Welshman's move to Quins in 2015.
"When you have guys like that around you, it shows you what it takes to get to the top of the game," Sinckler said.
"He [Jones] has been a massive help to me - probably changed my life, to be honest, in the way I see things.
"He is a top bloke, a good man."
The England forward says he can shine in New Zealand thanks to the lessons he has learned from his fellow front-rower.
"Looking back now, when you are a young player, you want to play. Then you see Adam Jones come in to the club, and you are probably not going to play as much," he added.
"From my first day, Adam has been unreal. He's been like a coach to me, even though he is a player.
"He will be a top coach in no time at all. He's been a coach, a mentor, a father figure to me - and a headmaster when he is telling me off."