Sam Matavesi: Cornwall's Graham Dawe says Fiji forward could play in Premiership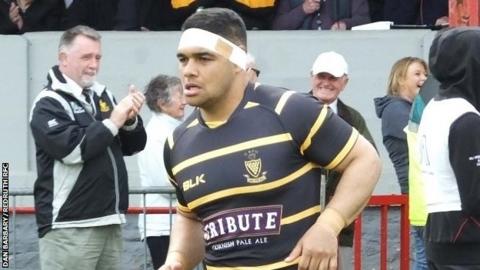 Cornwall head coach Graham Dawe says Fiji back row Sam Matavesi has the attributes to be a Premiership player.
The 25-year-old former Plymouth forward plays in the fifth tier for Camborne but has been an integral part of Cornwall's County Championship success.
"He's the full package," Dawe told BBC Radio Cornwall. "He's extremely skilful, knowledgeable and fit but most of all he puts his head where it hurts.
"If I was given the vote I'd give him world player of the year," he joked.
Matavesi's brothers Josh and Joel will both play in the top tier next season, having signed for Newcastle.
He is expected to feature as Cornwall host Hertfordshire in Camborne on Saturday in a game which will see them reach the Twickenham final for a fifth year running if they avoid defeat.
"I've got a massive amount of respect for him," added Dawe. "He could be a Premiership player, couldn't he?
"What the selectors and coaches have done is nothing short of a miracle really, to get these bunch of players together and produce a really homed unit."