British and Irish Lions: Wales' Ken Owens to miss tour opener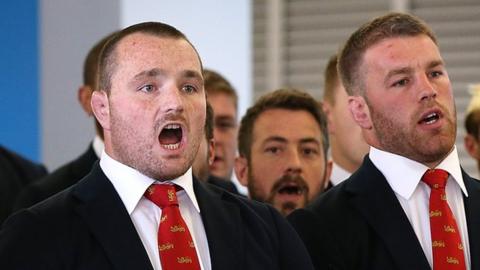 Wales hooker Ken Owens will miss the British and Irish Lions tour opener because of an ankle injury.
He missed Scarlets' Pro12 final win against Munster at the weekend and will not face New Zealand Barbarians in Whangerei on Saturday.
Owens said: "I've got a couple more boxes to tick, but hopefully [I'll be] fit for the second or third game."
However, captain Sam Warburton hopes not to miss early tour action as he did in Australia in 2013.
The Wales flanker missed their two opening tour games in 2013 because of a knee injury.
On arrival in Auckland, Warburton said: "I presume a lot of the guys who have been involved in training for the last two and a half weeks will be involved in that [opening] game.
"I'm hoping that's going to happen this time round.
"That's what frustrated me four years ago.... I was pretty jealous waiting for that game. You just want to get the Lions jersey in the kitbag. And then I just want us to win, and I don't care how we win.
"The good thing is, when the first game gets under way they start coming think and fast. It's nice to get that first game under your belt.
'Big learning weeks ahead'
Warburton also said the tourists would trade a defeat in any of their warm-up games if it benefited their chances in the Tests.
"These games are important to win, you get a good feeling, but we've got to realise that the next three, four weeks are big learning weeks for us," said the 28-year-old.
2017 Lions tour schedule
June 3 - Provincial Union Team, Whangarei
June 7 - Blues, Auckland
June 10 - Crusaders, Christchurch
June 13 - Highlanders, Dunedin
June 17 - Maori All Blacks, Rotorua
June 20 - Chiefs, Hamilton
June 24 - All Blacks, Auckland
June 27 - Hurricanes, Wellington
July 1 - All Blacks, Wellington
July 8 - All Blacks, Auckland