John Barclay column: 'Townsend wants us to play the fastest rugby in the world'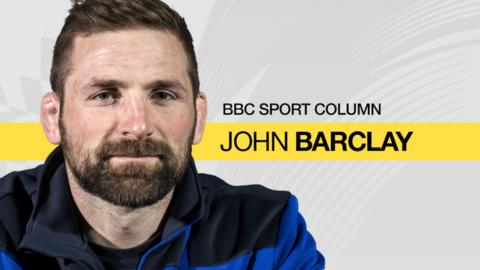 Scotland v Italy
Venue: Singapore National Stadium Date: Saturday 10 June Kick-off: 13:00 GMT
Coverage: Live on BBC One Scotland and BBC Radio Scotland
It's odd the things you end up doing in the days and hours before a big match - in this case, Scarlets' Pro12 final against Munster in Dublin last month.
It was the biggest week of my club rugby career, my first chance of winning a trophy after 10 years of trying.
We were on a roll with six wins from our previous six games. We were scoring tries and not conceding many. We'd gone to Dublin and beaten Leinster in the semi-final, the first time an away side had ever won a semi-final in the Pro12.
We all knew that if we could keep playing the way we were, we'd win that final. But you're still nervous. Munster finished top of the Pro12 and were Champions Cup semi-finalists.
Early in the week I found myself sitting at home in Mumbles near surfing country on the Gower Peninsula watching Louis Theroux documentaries. There was one about the hardest prison in America - Miami Mega Jails. There was another about a place called Fresno in California - The City Addicted To Crystal Meth.
You look for positive vibes in weeks like that. Louis is a masterful programme-maker but he wasn't exactly giving me the karma I needed. It all worked out, though. It wasn't just winning the Pro12 that made it an unforgettable day, it was winning with my mates and winning in style.
A friend of mine asked me later whether I'd have preferred the final to have gone to the last second, nip and tuck to the final whistle. Not in a million years. We scored six tries and when I came off the field before the end I could look to the stands to see my wife, Hayley, and my one-year-old son, Logan, sitting on her lap, knowing that we'd done it.
We couldn't bring our eldest, Finn, who is four, but I thought about it later. My earliest memory as a kid was when I was four. I remember being in a house in Switzerland with my parents. I can't remember much else, but I remember that house. I'd like to think that Finn will remember his father winning a final.
I woke up on Sunday morning feeling a bit rough, went downstairs in the hotel at 9am and found Liam (Williams), Jon (Davies) and Ken (Owens) about to head out the door to hook-up with the British and Irish Lions. Good luck to the boys in New Zealand and best wishes to Liam, who's now leaving the Scarlets for Saracens. I'm sorry to see him go but really glad that he went out on a high. Then, 10 more of the boys appeared and they were away to meet up with Wales.
I jumped on a plane to Edinburgh, got a taxi to St Andrews, our training base with Scotland, and went to my room. None of the boys were due in camp until later that night, so I sat there on my own and ordered room service.
I took out my phone and all the Scarlets players and fans were tweeting and instagramming and snapchatting. It would have been nice to have been together to savour the final all over again, but I was quietly content on my own, flicking through texts and photographs from what was a momentous day in my life.
Monday morning dawned and the new reality took hold, I didn't train because of a rib cartilage thing, but everything was intense out there. Gregor (Townsend, Scotland head coach) wants us to play the fastest rugby in the world and he wants training to reflect that. There was a terrific atmosphere, a real excitement about what lies ahead of us in Singapore, Sydney and Suva in the next three weeks.
It's coming up for 10 years since I made my Scotland debut. Does it feel that long? Actually, it does. There comes a stage when every professional rugby player starts to think of life after the game and I've been mulling that over for quite a few years now. I've seen players struggling post-retirement and I want to be organised.
Six years ago I started an online degree in estate management and surveying, and I've thought also about a director of rugby role at a school. Not that I'm anywhere near ready to stop - I'm only 30 - but what I'm going to do next occupies my thoughts. Every rugby player needs to get stuff organised long before they quit the game.
Magnus Bradbury and D'arcy Rae, both in our squad for the summer tour, were only 12 years old when I won my first cap. Zander Fagerson was 11. Greig (Laidlaw) is away with the Lions so I'm captaining them on the tour and it's a major honour. We've got Tests against Italy, Australia and Fiji. It's important that we build on what we did in the Six Nations. We need to keep the momentum up.
Italy in Singapore will be unique. Australia in Sydney will be fascinating. Fiji in Suva will be memorable. I played against Fiji in Fiji before. It wasn't like any place I'd ever been. Our team bus had no windows, there were benches for seats, the roads were tracks. It was brilliantly different. I loved it and I'm looking forward to going back there.
The downside of touring is that you miss your kids. The tour is only three weeks, but even in that short space of time, they change, especially the smallest one. The eldest, Finn, will ask me on the phone, 'Daddy, when are you coming home?' It'll be late June and hopefully we'll have three wins to show for the summer. We can all have a rest then, but only then.
John Barclay was talking to BBC Sport Scotland's chief sports writer, Tom English