Ross Ford: Scotland hooker looks back on soon-to-be record breaking career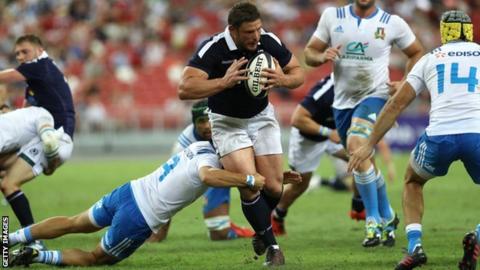 It was during a discussion about the most capped rugby players of all time that Ross Ford produced one of the most Ross Ford moments of his 109 and soon to be Scottish record-breaking 110-cap career.
In this business of the pantheon, there is, of course, Richie McCaw on 148 New Zealand caps, then Australia's George Gregan on 139, Brian O'Driscoll on 133 and All Black, Keven Mealamu, on 132. Given that his coach, Gregor Townsend, has said that Ford could play on at international level for at least another two years, you start doing the mental arithmetic.
Two injury-free years? There's the 2017 autumn Tests [three more caps], the 2018 Six Nations [another five], the summer tour that follows [add three], an autumn series [add three more] the 2019 Six Nations [plus five] and the World Cup in Japan [throw another five on top]. Fair enough, it's stretching things, but that little lot would send Ford rocketing into the top 10 caps-winners in history.
It is put to him, as he looks over Lami Bay in Fiji, that at the age of 33, and looking after himself the way he looks after himself, that there are a lot more caps out there for him. "I'm actually 32," he replies.
This, it has to be said, is a surprise. Every available online source says Ford was born on April 23, 1984, which would make him 33, and that at the age of 20 he made his Scotland debut against Australia in 2004, which would also make him 33. Upon consultation, the Scottish Rugby media team believe him to be 33. When asked, the Scottish rugby manager, Gavin Scott, says he reckons the hooker is 33, but that he has a photograph of his passport on his phone so he can check. That also says Ford is, indeed, 33.
The only person in Fiji who believes Ross Ford isn't 33 is Ross Ford. So on Thursday evening he's asked again.
"Ross, what age, are you?"
"I'm 32."
"You're not. You're 33."
"Am I? Ah, OK. It's only a number."
This story cuts to the heart of Ford, a man who just gets on with life without fuss or bother, without getting too high or too low, without concerning himself with incidentals such as his age.
He says that the whole record thing "creeped up on him". He never gave it any thought until people started asking. You talk about his international career span of 13 years and he says he can't remember a whole lot about it. Bits and pieces, yeah. But not much.
That first cap? "I was pretty nervous. I can remember the lineouts hadn't gone too well during the week and I was a little bit terrified to be honest." He'd come off the bench for Gordon Bulloch. As an illustration of how long ago it was, the Scotland full-back that day was Stuart Moffat [Ford thought it was Chris Paterson] and the Scottish blindside flanker was Scott Gray [Ford guessed it was Jason White].
"I enjoy it a lot more now," he says, before talking about what all of this means to those around him. "My mum and dad and my brother, my girlfriend, they're all very proud. I take it as is, but it's good for them to be able to enjoy it. A lot of it is for them. They've all made massive sacrifices. Laura [his partner] is very good when I'm not playing well, she knows how to buck up my ideas and get us going. They all play an important part in my life and I'm lucky to have them."
Ford had the fortune, and misfortune, to arrive on the international stage when he did. Fortune in that he went largely unchallenged as Scotland's pre-eminent hooker. The flip-side is that he went unchallenged in a team that found winning murderously difficult. A corner has been turned in recent years, but Ford was one of the few constants through the misery, the wooden spoons in the Six Nations, the near Shakespearean tragedy that was Scotland's back-play, the relentless negativity and lack of hope that must have tested his mental strength to the maximum.
Of the 55 Six Nations matches he has played he was won only 13. Five of those have come in the last two seasons. As first-choice, Ford may have been overtaken by Fraser Brown, but the fact is that he's now producing some of his best stuff in a Scotland jersey. He talks about this "bunch of boys" being the strongest squad he's been involved with. He says it in a way that tells you that he's not intending to ease-up any time soon.
Snapshots of the journey? His three biggest highs are listed as the win over Ireland at Croke Park in 2010, the win over Australia in Australia in 2012 and one of his Calcutta Cup wins - 2006 and 2008. Either will do, both were precious.
His lows are plentiful. The Six Nations wooden spoon of 2012 is number one, a season of horror that produced five losses and only four tries. In his day, there were two championships - 2008 and 2010 - when Scotland scored only three tries in their five games. If you're looking for an indication of how life has changed - and why he's enjoying it more now than he has ever done before - Scotland scored three tries in 80 minutes in their victory over the Wallabies in Sydney last Saturday.
He says Bismarck du Plessis of South Africa has been his toughest opponent - "a big confrontational, physical boy. In your face the whole time." For a man who doesn't lose his temper, a Test in Argentina in 2009 stands out as the angriest he has ever been on the field. "Somebody tried to feign that I hit them and I was raging after that. It happened just 20 minutes in and the referee bought it. Wish I had hit him. I was completely innocent. That gave me added oomph in everything I did that day."
His international coaches in a word - or three?
Matt Williams: "Australian. Interesting. Different."
Frank Hadden: "Laid-back."
Andy Robinson: "Intense."
Vern Cotter: "Very intense."
Gregor Townsend: "Detailed."
The most bonkers Scottish player in his time: "Ryan Wilson - unbelievable. Brilliant fun, full of energy." Greatest Scottish player: "Mike Blair, definitely," he says of the former scrum-half and now national team skills coach. "Spied a gap no problem. His knowledge of the game was outstanding. If they [Stuart Hogg, Finn Russell and the rest of the modern-day stars] get close to Mike then that's ideal for us."
Ford talks about the All Blacks both as the greatest team he has ever played against and the one team he would most like to beat. He's had four cracks at them, all at Murrayfield - a 32-6 loss in 2008, a 49-3 pummelling in 2010, a 51-22 rout in 2012 and, in 2014, the closest of them all, a 24-16 defeat. Scotland were ahead with 10 minutes to go, but couldn't hold out. "If you beat them then you've as near as damned played the perfect game. Beating them would be a career high. The closest we came was that last one. We've learned a lot since then, we've learned how to close out games. I'd like to think that the team now would close that game out."
He says the biggest lesson of all is just to enjoy what he has, to savour it for as long as it lasts. "There's no point in worrying. In a professional environment you can get stressed out and things can overwhelm you a bit, but once you get a little bit older you should be enjoying everything about it. It's been a massive privilege to play this game."
Ford, famously, doesn't say a lot, but, in many ways, he doesn't have to. Thirteen years and 109, going on 110, caps says enough. He's done a lot, but the way he sees it, he still has a lot left to do.