'Radical' expansion plans for Pro12 raise big questions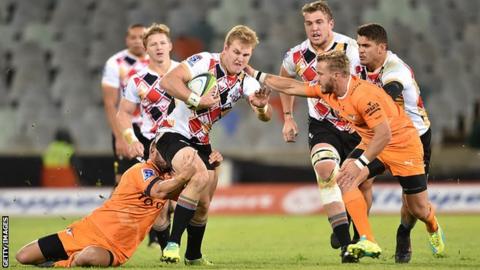 It was back in August last year that Mark Dodson, chief executive of Scottish Rugby, and Philip Browne, his counterpart in the Irish Rugby Football Union, truly raised the alarm about the Pro12.
In articulating why the tournament needed a dramatic overhaul, Dodson spoke about "bleak prospects" and "perfect storms" if everything stayed the same. Browne went even further when pointing out a "potentially profound" risk to the professional game in Ireland if the Pro12 didn't get its act together.
It was all about money. The Pro12 brings in about £12m in television revenues - a relative spit in a bucket compared to the riches of the Premiership in England and the Top 14 in France.
The unions in Scotland, Ireland and Wales were all beside themselves with worry over the yawning financial disadvantage they were at compared to the English and the French as they attempted to keep hold of their marquee players.
In exploring the possibility of inviting two American franchises into the Pro12 in time for the 2018-19 season, Dodson spoke of the necessity to tap into new markets and find new money in order to fight off English and French clubs who may come looking for Scotland's finest. "To stay as we are is not an option," he said.
Things have changed. It's not the Americans who are in the frame now, it's the South Africans. And 2018-19 is not on the table anymore, it's 2017-18. It's the coming season, which begins in September.
On 7 July - this coming Friday - the South African Rugby Union will go through the Pro12's list of requirements for acceptance of two of their franchises - the Cheetahs from Bloemfontein and the Kings from Port Elizabeth - into the next Pro12 campaign.
They will have to make commitments on finance - each of the current 12 clubs from Ireland, Italy, Scotland and Wales could be in line for an extra £500,000-£800,000 in revenues from the South African union and South African television - as well as commitments on squad enhancement. The last thing the Pro12 needs is two more also-rans.
The Cheetahs and the Kings are the poor relations of South African rugby. Of the six SARU franchises in Super Rugby, they are the weakest. They sit in their usual perch at the tail-end of the southern hemisphere club competition, a combined eight wins from 27 games this season and six wins from 30 games last season. Of the 27 players used by the Springboks in their 3-0 series win over the French this month, only two came from the Cheetahs and none at all from the Kings.
Super Rugby is a failing competition, the expansion to 18 teams - to include sides from Japan and Argentina in addition to those from Australia, New Zealand and South Africa - has proved to be a calamity that now needs unravelling. The crowds are falling, the television audience is collapsing, there are too many teams in a bloated league format that is confusing and unloved.
Three teams will be culled at the end of the current season - the Cheetahs and the Kings are two of them. SARU could have killed off the pair of them or they could have rolled them into their four other franchises, but then the Pro12 option struck and now, according to sources close to the negotiations, this deal is 75% likely to happen in time for the coming season.
Already, behind the scenes, a provisional format for a new Pro14 is being put together. There are different scenarios but the most probable is that the 14 teams are split into two divisions of seven - two Irish, two Welsh, one Scottish, one Italian and one South African.
They'd play home and away - 12 games. All the regular local derbies would exist on top of that. Instead of two rounds of the 1872 Cup between Glasgow and Edinburgh there would be three. Play-offs would continue and fewer games would be played in international windows.
That's if SARU deliver the goods on Friday and everything goes smoothly thereafter. Don't discount a spanner in the works, but there is mounting confidence in this going through.
If it does, then the already rapid pace of change will go up another gear as the various unions attempt to sell this to their supporters, and their various commercial and logistical arms attempt to put plans in place. There's a fixture schedule to be organised, there are arrangements to be made over playing the South Africans in South Africa and having the South Africans playing in Europe.
The Pro12 already has too many uncompetitive teams and one of the pre-requisites of the deal would be that the decidedly underwhelming Cheetahs - who average just less than 8,000 fans per home game in a stadium that holds 48,000 - and the flops that are the Kings - who bring in just 7,000 per game in a ground that holds almost 49,000 - would be beefed-up by transplanted Springboks.
Quite how SARU are going to remove talents from the Stormers, the Bulls, the Sharks and the Lions without there being an uprising in Cape Town, Pretoria, Durban and Johannesburg is anybody's guess. That's what they will need to sign up to, though. There's potentially a mountainous in-tray and precious little time to get through it. If Friday happens the way Pro12 officials think it may, they'd have eight weeks until the new league is supposed to start.
There is a surreal air to all of this. Supporters of the Pro12 clubs haven't really engaged with this story yet, partly, one suspects, because the British and Irish Lions are preoccupying their thoughts and, partly again, because they probably think this is just a flyer, a silly season story for the summer, a bottle of smoke.
It's hard to get your head around. The wrong kind of expansionism - plans are still afoot to bring in an American franchise next summer - has brought Super Rugby to a dark place. Why follow them?
How can you shoe-horn in, at eye-watering speed, two disparate South African franchises and expect to be taken seriously as a league? How can supporters buy into a competition that looks like a dog's dinner? The Pro12 knows that in terms of PR they have an Everest to climb. In their slippers. Going backwards. In a blindfold.
There's also the bottom line that Dodson and Browne and others have spoken about. As it is, the Pro12 is not doing it for them as a commercial entity. To sit on their hands and do nothing but moan about their lack of cash and their vulnerability to rich owners in England and France achieves nothing.
The Pro12 needs a radical shake-up, it's true. This would be radical, no doubt about it. A year ago, Dodson and Browne said they wouldn't be hanging about, that the time for action was now. Usually you take that stuff with a pinch of salt. For some, as they digest this, it'll be a shot of brandy that'll be required.