BBC Sport NI analysts Tony McWhirter and Ian Humphreys assess Ulster's prospects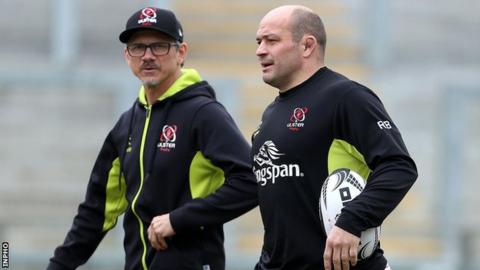 Ulster begin their bid to secure silverware for the first time since 2006 with a home Pro14 game against competition newcomers the Cheetahs at Kingspan Stadium on Friday 1 September, live on BBC Two NI.
BBC Sport NI analysts and former Ulster players Tony McWhirter and Ian Humphreys assess their prospects of ending an 11-year trophy drought and discuss some of the major talking points ahead of the new campaign.
What do you make of the expanded Pro14 competition with its new format and two South African teams?
T McW: "I'm pretty upbeat about it and I think it will be good for the competition. The two South African sides will add a different dimension, attract a lot of interest and bring more money, which will be good for all the clubs.
The first year might be a bit hit and miss and there might be a few teething problems but I like the fact that rather than holding fire, they have opted to go with the changes straight away this season.
It's a chance to move the competition on and I like the format with the two Conferences. You still get to play every team and the inter-provincials remain integral part of the calendar.
It is well constructed and there will be more teams involved at the tale end of the season, with the incentive of a home semi-final for the teams who finish top of their Conference."
IH: "I think it's very exciting. As players, the guys are bound to be excited about playing in a new country and against new opposition. It's an opportunity to pit yourself against your counterparts in the southern hemisphere and I hope it is a success."
What will be the dynamic of the new coaching team as Director of Rugby Les Kiss is joined by head coach Jono Gibbes, Dwayne Peel and Aaron Dundon?
T McW: "Les Kiss will have overall responsibility but Jono Gibbes comes in with a formidable reputation from his time as a forwards coach at Leinster and Clermont Auvergne and will want to put his own stamp on things. The position of head coach was the next natural step for him.
It may take some time to adapt as the new style of play which Jono will want to introduce comes to the fore but I think there are exciting times ahead.
The other two guys are a bit of a leap into the unknown in terms of coaching credentials but they will bring something different to the party in terms of new ideas."
IH: "Jono Gibbes brings with him a great reputation from his stints with Leinster and Clermont Auvergne. He has built up a wealth of experience in European competition and will bring a hard edge to the team.
"Dwayne Peel will bring a good knowledge of the game and it will help freshen things up for the players. The key is good harmony among the coaches.
"I hope Ulster play an exciting brand of rugby and one of the keys is to find a way that allows Charles Piutau and Marcell Coetzee to get into the game more and play to their strengths."
How keenly will the departure of Ruan Pienaar be felt? Have Ulster recruited adequately in the half-back positions?
T McW: "The loss of Ruan will be felt for quite a while but there is a big onus on John Cooney, Paul Marshall and Dave Shanahan, with the scrum-half position very much up for grabs.
Cooney was understudy at Connacht but can also play at 10 and take over kicking duties if necessary, while Paul Marshall has had years as number two to Pienaar and may feel he has a point to prove. He gets criticism at times for making the wrong choices but is tactically astute and this is his opportunity to throw off the shackles.
As regards recruitment, team manager Bryn Cunningham is restricted by the fact that everything has to be sanctioned by Dublin in terms of overseas players, but Christian Lealiifano is proven quality at fly-half and will have a big role to play.
IH: "I'm one of the few who think that it could work out for Ulster as they had become dependent on Ruan and everything came from him. Ruan is undoubtedly world class but the way the Ulster squad has developed and evolved, they are looking to play a different kind of game.
"John Cooney showed plenty of promise with Connacht and was capped on Ireland's summer tour to Japan. Lealiifano is quality and hopefully the likes of Brett Herron and Johnny McPhillips will learn off him and be able to use that experience if Ulster are still in contention in Europe come January."
What do you make of new Springbok signings Jean Deysel and Schalk van der Merwe? What will be the impact of the return from injury of fellow South African Marcell Coetzee?
T McW: "Having Marcell Coetzee available again will be like having a new signing in many ways but from what we saw of him last season he has a lot to bring to the table as a big aggressive ball carrier.
"Van der Merwe is pretty handy and will be able to look after himself in the front row while Jean Deysel knows what the game here is all about from his time with Munster.
"Deysel will add a dynamic in terms of the physical side and hopefully he will stay fit. The back row was bereft at times last season but Jean will bring an experience and leadership element to the forwards. Ulster had a relatively inexperienced front five in the last campaign, but Iain Henderson looks set to play a more prominent role in the second row this time round."
IH: "Deysel did well in his short time with Munster and will add a bit of strength in depth in the front row. Ulster have been crying out for the kind of physicality that Marcell Coetzee showed in the short time he was available last season so his return is a big boost. Van der Merwe should help steady the scrum."
Was the departure of Charles Piutau at the end of next season inevitable?
T McW: "When Ulster signed Charles it was on a two-year contract and while they have obviously gone to him with the best offer they can make, Bristol have been the subject of some massive financial backing over the last couple of years and seem to have an unlimited amount of money.
"His brother Siale will also be at Bristol and that must have had some sort of influence, family is a big element for him.
"Charles will want to make sure he is set up for the rest of his life when he stops playing and the vogue, particularly among southern hemisphere players, seems to be to stay at a club for two or three years and then move on to the highest bidder."
IH: "These things are part and parcel of the professional game now and the players are used to other players coming and going from the squad, whether because of injury or moving on elsewhere.
"Nobody will be holding a grudge from an Ulster point of view and I'm sure Charles will be eager to go out on a high."
What hopes of Ulster success in the Pro14 and Champions Cup in their 2017-18 campaign?
T McW: "The Champions Cup is so difficult, Wasps are a good team, while Harlequins have strengthened and La Rochelle, who have been boosted by the support of a major benefactor, are very, very difficult to beat at home. There is a tangible gap between the English and French teams and the rest in Europe.
"In the Pro14, Ulster are in the better of the two Conferences and must aim to be one of the top three teams, preferably part of the top two. Leinster will be as tough as ever and the Scarlets will be to the fore too. They played some good, quality rugby last year and have Leigh Halfpenny back in their ranks.
There has been a big turnover in terms of coaching staff, with changes in personnel at the top at Edinburgh, Glasgow, Munster, Connacht and Zebre, so it will be interesting to see how those teams will change how they play. Some real quality coaches have come in and that will add some spice.
"Ulster have maybe not signed as prolifically as they wanted and they have lost the likes of Ruan, but there are a lot of positives as they have players coming back from injury, have young players who have been making an impact with Ireland during the summer, plus Iain Henderson, Rory best and Jared Payne, who will bring back the experience they gained from the Lions tour.
IH: "Ulster have a tough start in Europe, with Wasps at home and then La Rochelle away, but they will regard it as a good opportunity if they can get some points on the board ahead of the double-header against Harlequins.
"It's hard to know how the Pro14 will go but we have obviously got to aim for top three in the Conference minimum. Ulster can beat anybody in a one-off."
Tony McWhirter and Ian Humphreys were talking to BBC Sport NI's Richard Petrie