Ryan Wilson: New captain says Glasgow Warriors will aim to win Pro14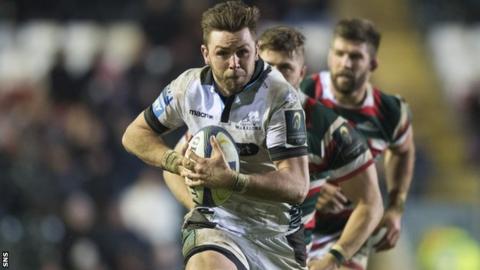 Glasgow Warriors captain Ryan Wilson says Dave Rennie will set his side the target of winning the Pro14 title.
The Scotland back-row was appointed skipper by new head coach Rennie, who arrived in Glasgow from New Zealand earlier this month.
And the 28-year-old expects Rennie to set his players extremely high targets.
"I can already tell by what Dave's saying that our goal will be to win the league - that'll be the first thing," Wilson told BBC Scotland.
"We want to finish top of that conference and go on to win the league; we're not here to partake. Champions Cup, we want to go better than we did last year [a quarter-final defeat by eventual winners Saracens]."
'You never expect to be captain'
Wilson has made 127 Warriors appearances as he prepares to enter his eighth season at the club, and succeeds last year's co-captains, and fellow Scotland internationals, Jonny Gray and Henry Pyrgos.
The Aldershot-born forward helped the club clinch its maiden Pro12 title in 2015, and has scored five tries in Warriors colours, touching down in the club's historic 43-0 hammering of Leicester Tigers in January, as Glasgow reached their first European Champions Cup quarter-final.
"I don't think you ever expect to be club captain," he said. "Even when [Dave] asked me, he said, 'what do you think about captaincy'? I asked, 'who are you talking about'? He said, 'you'! I said, 'oh'!
"I was surprised, but I've captained the team quite a few times now and know what to do on the pitch. So I suppose it comes down to learning off the pitch and how to manage people and do stuff, but from what I've learned of Dave already, and it's only been a week-and-a-half, he's a family-orientated guy, and that's very much me.
"He's a down to earth bloke, someone you can easily get on with and have a chat with, and I'm looking forward to it."
Family man
Rennie won two Super Rugby titles with the Chiefs in his native New Zealand, creating what he referred to as a "brotherhood" in the squad, and forging stronger links with the local community and supporters.
"We've got a very good family culture, but he wants to push that even further," Wilson, who can play across the back row, said. "He said that's a massive part of him. He said, if the family's happy, the players are happy, and then they're performing well.
"On top of that, I feel that you can't always be deadly serious to be a captain and that's probably another thing he liked about me - I'm not the most serious guy outside of rugby.
"But cross that white line, a switch goes and I go into serious mode. I think when the boys see that they think, 'right, here we go, we're off to work, Wilson's being serious, we'd better switch on as well'.
"I like to just get my head down and get on with things and I think as a back-row that's an important trait to have. You've got to just get on with your work, whether it's clearing 30 rucks rather than carrying 20 balls.
"It doesn't come down to scoring tries with us; it's the bits that people don't see. That's something I work on and try and work as hard as I can every game, and hopefully people see that. It's a good trait to follow; a club captain needs that, I suppose."
Depth and defence
Glasgow finished sixth in last season's Pro12, missing out on a play-off berth for the first time since 2012.
Wilson admits they struggled to perform when shorn of their hefty international contingent, adding the squad are eager to improve their defence.
"The exciting thing is, the [pre-season] game against Northampton Saints at Stirling, a lot of the young guys in there fronted up and played very well," he added. "It's exciting to see.
"I think we're on the right sort of track there. The other thing is defence - we spoke about it a lot last season, defence will win us games. We need to sharpen up there. That real strength in depth is something we want to get back - we went away from it a little bit last season."