Richard Cockerill: Edinburgh boss warns players to put club before country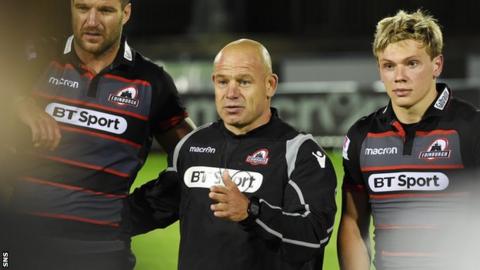 Head coach Richard Cockerill has warned his Edinburgh players to put their club duties first, before seeking international recognition.
There are 19 Scotland caps in Cockerill's 44-man squad, with others pushing to make their Test debuts.
The former Leicester Tigers boss joined Edinburgh this summer.
"Because there's such a small pool of players [in Scotland], we've got to make sure they're not just waiting for the Tests to come around," he said.
"The club and trying to be competitive in the [Pro14] is important, and as a professional player making sure you have pride and respect in what you do every day and how you go about your business.
"I'm not concerned about the national team - it is important, because I've got a lot of players that will play for the national side - but first and foremost they have to win, prepare well, play well for Edinburgh.
"If they do that, they'll play for me, and they'll play for the national side. If they don't, they won't play for me or the national side. On a day-to-day basis, they need to understand they need to perform for Edinburgh, and if they don't, they won't be with us."
Edinburgh have long languished in the league's lower reaches, finishing no higher than eighth since 2011.
Cockerill has spoken before of the need to "earn back respect" and credibility for the club, and accepts the improvements will take some time to show.
"I'm excited by trying to reinvent what they're doing and get us competitive in the competition," he said.
"We've got to go back to basics - firstly, we need to realise where we're at, which is a bottom-four team as it stands and that's the reality. We've got to create a culture of hard work and understanding what it takes to be a successful team every day.
"We need to build some foundations that we can move forward on for the next three, four, five, six years."
Cockerill referenced the growth of rivals Glasgow Warriors, who won the Pro12 for the first time in 2015, and 2016 champions Connacht, a team who ranked no higher than seventh in the 11 years prior to their title-winning campaign.
"If we work hard, and we have players that want to buy into what we're doing they'll have success," Cockerill added. "What success looks like for Edinburgh in the first place might mot be winning the competition.
"But if you look at Connacht, who have won it, Glasgow, who seven years ago were near the bottom of the table and sat there a lot of the time to what they've done in the last five or six years, there is clearly scope for that to happen.
"I think we have the rugby city to do that, but we have to connect with the supporters and put a team on the field that people want to come and watch."