Northampton Saints: Premiership club announce first loss for 16 years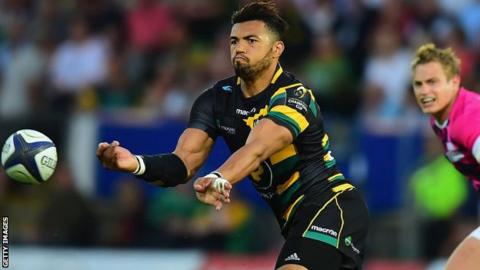 Northampton Saints have announced a pre-tax loss of £1.2m, the first time the Premiership club have failed to achieve a profit since 2001.
Saints say "dramatically increased player-related costs" was a major factor in their financial results for the 12 months ending on 31 May 2017.
Saints did, however, increase turnover to £16.7m in the same period.
"Plans are in place to return us to the black over the next few years," said club chairman John White.
Northampton will play in the European Champions Cup for a ninth successive season in 2017-18 and have almost 10,000 season-ticket holders.
But former chief executive Allan Robson warned earlier this year before stepping down from the role that wages would be "a challenge" to the club moving forwards.
And a statement on the club website said "dramatically increased playing-related costs, with a much larger salary cap framework and the related inflation in player wages, and strong competition from within the Aviva Premiership and overseas for player signatures" was one of two main reasons for the loss.
"One-off costs", including appointments to the board to reorganise the way the club is run, and new catering arrangements, were also a contributory factor.
Despite that, chairman White believes they are in a good position to achieve success in the future.
"My ambitions for the club are quite simple. I want to build on previous successes by bringing together the best of what we have already while improving how we operate as an organisation, both on and off the field," he said.
"It is critical that we do this to ensure that we maintain our status as one of the best clubs in Europe and our hard-earned high reputation across the rugby world."