Women's Rugby World Cup: Wales coach Phillips praises seventh place finish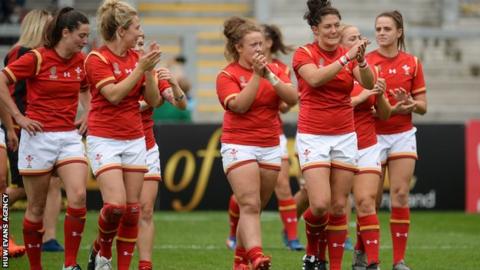 Wales coach Rowland Phillips has praised his team following their seventh place World Cup finish which guaranteed a place at the 2021 tournament.
Wales defeated hosts Ireland 27-17 in Belfast on Saturday with the top seven finishers reaching the 2021 World Cup automatically.
"I am really proud of the girls," said Phillips.
"They have achieved something we have not done for a while."
"To get a seventh place finish and qualify for the next World Cup is a huge success for us and allows us to build towards the next World Cup."
Wales lost group games against eventual winners New Zealand and Canada before defeating Hong Kong. They lost to Canada again before finishing with the victory over Ireland.
"It gives us a lot of hope going forward," said Phillips.
"We have had a tough journey to get to this point but we are pleased to get some reward for all the hard work.
"We need to review the World Cup and look at all the detail around it.
"I know there are so many young players coming through the system and some of them are already in our squad.
"The talent towards the next World Cup is huge and I am looking forward to help develop that."