Leigh Halfpenny: Wales full-back admits 'huge surprise' at Toulon exit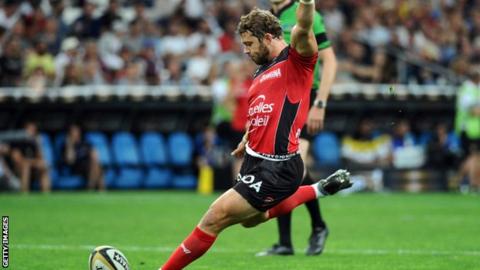 Leigh Halfpenny says it was a "huge surprise" to be told he had no future at Toulon while preparing for the British and Irish Lions tour.
The Wales full-back says he expected another season at Toulon, before being told by the club in June he would not be offered a new deal.
Halfpenny is now back in Wales and set to make his debut for Scarlets on 2 September.
"I won't lie, it was tough. It was a huge surprise," he said.
Halfpenny had been with Toulon for three seasons after leaving Cardiff Blues in 2014 and believed he had agreed a new deal having negotiated his release for the Lions tour to New Zealand.
However, Toulon owner Mourad Boudjellal announced his contract would not be renewed because of the amount of time he spent away on international duty.
Halfpenny missed the Top14 final which saw Toulon lose to Clermont Auvergne because he was with the Lions.
"I had agreed a long time ago to stay at Toulon for one more season, but for whatever reason there was delays," said Halfpenny.
"Before the [Top 14] semi-final everything had got agreed and it was just a case of signing the contract, but it never came through.
"Then, I found out in New Zealand that there wasn't an option for me.
"It has been extremely tough.
"It was tough having to watch the final and not be there, of course, but you are on a Lions tour and that is so special.
"Then to have that news, you have to focus on playing on a Lions tour, which is every players dream and a goal I set from the very off.
"I wanted to give that everything, I still focused on the tour, but the speculation and everything that came with it, was tough to deal with."
Coming back to Wales
Halfpenny opted for the Scarlets on a dual contract partly funded by the WRU after being heavily linked with the Blues.
"I knew I wanted to come back to Wales and that felt like the right option," he added.
"Then it was a case of assessing my options from there and after that I made a decision to come to the Scarlets. With the likes of Liam [Williams] and DTH van der Merwe leaving there was a vacancy in the back three and that felt like the right fit.
"Watching the Scarlets play and speaking to the guys, they like to play an attacking brand of rugby. For me that is something I want to bring back into my game.
"Watching how the Scarlets played and knowing a lot of the guys and how they play, it felt like the right choice."
The Lions tour
Liam Williams, who left Scarlets to join Saracens at the end of last season, was selected at full-back for the three Tests as the Lions drew the series with the All Blacks in June.
Halfpenny - man of the series when the tourists beat Australia in 2013 - said he was disappointed not to make the Test starting team but happy to see his "good mate," doing well.
"New Zealand are world champions, the best in the world, so to draw a series after a tough tour was a huge achievement," he reflected.
"As a player you want to push and try and start in the Tests. That didn't happen which was disappointing but I couldn't argue with the decision.
"Sanjay [Liam Williams] was outstanding on the tour and fully deserved his position. I was delighted for him. It was good to see.
"That just motivates you more to get back in the horse and look at areas where I can improve on my game going into the season."