Paul James: Osprey loose-head an old-school record breaker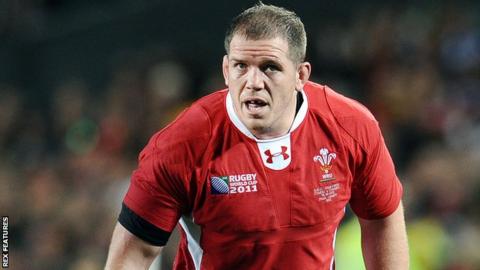 After more than a decade packing down in the front row for Ospreys, prop forward Paul James puts his success down to a good wife and Seven Sisters.
By way of explanation for the unfamiliar or un-Welsh, Seven Sisters is not an extended family but a former mining village in an offshoot of the Neath Valley.
James is a rare breed in Wales - a rugby player with 66 international caps who can walk down the streets of most towns in the Land of his Fathers largely unrecognised.
That is except, possibly, in Seven Sisters, where he spent a memorable season during his formative years.
Loose-head James will equal Duncan Jones' Ospreys appearance record of 223 in the region's opening Pro14 game against Zebre on 2 September.
Since his debut in 2003, he has helped the region win four championship titles while plying his trade in the darkest recesses of scrum, ruck and maul.
He also helped Wales win a Six Nations Grand Slam in 2012 and the championship in 2013.
So what is the secret of his longevity?
"A good wife," is his unhesitating reply.
Family support and luck with injuries
"Early on in my career, I had two neck operations and it was a difficult time for me.
"I was 20 or 21 and, touch wood, they've done a good job and I'm still here.
"But my wife does help me; my family helps me stay fresh.
"And in training, what helps is having quality loose-heads to play against.
"We've got Nicky [Smith] and Gareth [Thomas] here, so if one of you doesn't play well then there are two others behind you - and that was the same when I came through with Duncan Jones and Ryan Bevington."
A good grounding
Apart from three seasons at Bath between 2012 and 2015, James has been with Ospreys since the region's inception in 2003, having previously played for Neath.
Those formative years before full-time professional regional rugby have left a lasting impression on him, especially his time playing the village game.
"When I first signed for Neath, they sent me up to Seven Sisters for a season," he recalls.
"And in fairness to them, that's probably where I learned my trade back in the day.
"Put it this way, when you went into rucks, you had to cover your head up.
"I have a laugh and joke about it now, but seriously that is where you learned your trade as a front rower.
"I was playing there for a season and once I dropped into Neath, it made that transition a lot easier."
And James believes the modern game might have lost something by letting the playing link between the old "first class" clubs and village rugby slip away.
"When you're young, you need to be playing week in, week out," he adds.
"And I think Welsh rugby village teams are suffering for it as well. You hear of teams folding. I just think if the boys are there, play them. They learn their trade and then they step up once they're good enough."
Best Ospreys team-mate?
James gives honourable mentions to former All Black Marty Holah, "who taught us a lot", and Filo Tiatia, a "phenomenal" leader.
But it is Shane Williams - Wales' record international try scorer - who gets the nod.
"The one who stands out is Shane," James says.
"I came through as a youngster and he hadn't been at Neath long, and seeing this little guy coming through and just create stuff from nothing - it was good to watch."
Toughest opponent?
"The toughest I ever came across scrummaging-wise was Nicolas Mas of France," says James.
"Before the laws changed, he was phenomenal. He was just solid, made it really difficult.
"But I was really fortunate with Ospreys and Wales and have been surrounded by really good players, and we usually held our own."
Who beat the Wallabies?
James captained Ospreys when they beat Australia 24-16 in November 2006 and ranks that moment above the title wins in his club career.
"Winning the leagues is big but I suppose one of the biggest one for me was being captain when we beat Australia," he says.
"It was a big night for me because at the time I was out of the international set-up, so to have the opportunity to play an international team was massive and put my hand up to show that I could play international rugby.
"I think it was big for Welsh rugby in general - to see those matches happening again would be great."
Advice to young players
An old-school rugby forward cannot resist an old-school rugby joke when asked what advice would he give young players. "Jump in the scrums, push in the lineouts," he laughs.
It's a theme that passes into his serious answer.
"I think if you're a youngster coming through, you've got to keep your head down and work hard, but you've got to enjoy it as well," he says.
"If you don't enjoy what you do every day, you're not going to progress, so you've got to have that bit of enjoyment.
"Yeah, it's a professional game, but if you don't have a laugh on the way, it's going to be a tough old career for you."
It is a sentiment they will understand and applaud up in Seven Sisters, and Cimla and Glynneath, and a hundred more village rugby clubs around Wales.