Karl Dickson: Top referees aerobically fitter than players, says ex-scrum-half
By Chris Jones
BBC Radio 5 live rugby reporter
Last updated on .From the section Rugby Union61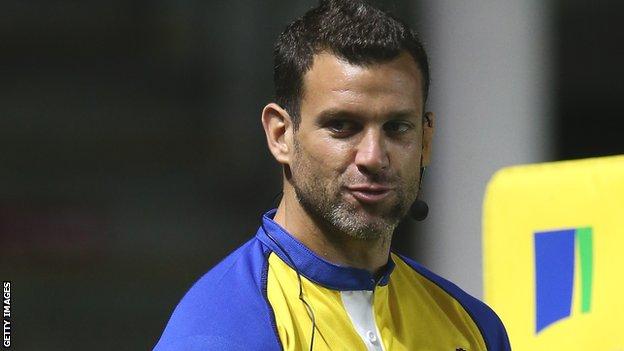 Top rugby union referees are aerobically fitter than players, says former Harlequins scrum-half turned official Karl Dickson.
Dickson retired in May to become a full-time professional referee, and is now part of the Rugby Football Union's 10-person elite panel.
"It's a different type of fitness, but definitely in terms of running around I am fitter as a referee," Dickson, 35, told BBC Radio 5 live.
"The referees' fitness is phenomenal."
Dickson added: "As a player you are very narrow-visioned in what you are looking at, while as a referee you have to see everything.
"It's a lot harder than you think, but I would always encourage someone to give it a go."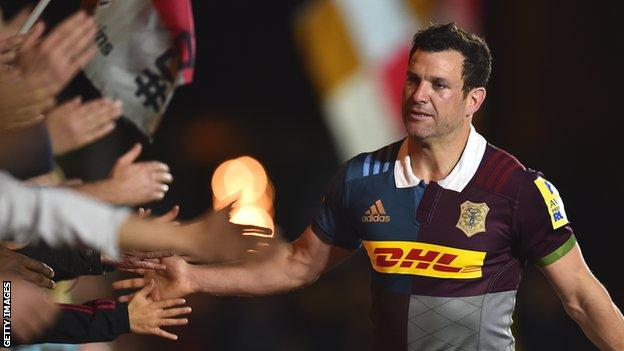 Dickson played 167 times for Harlequins, and toured South Africa with England in 2012.
Having started refereeing almost four years ago, Dickson now hopes to take charge of a Premiership fixture this season, with international rugby his end goal.
"You want to strive to be the best you can, and ultimately I want to referee Premiership rugby and on the international stage," he continued.
"This year I hope to have done a Premiership game, but it all depends how I perform in the Championship games and whatever games I have going forwards. It's a performance business."
Meanwhile, the new law amendments introduced this season will make the sport easier to understand and a better spectacle, according to England's leading official Wayne Barnes.
A series of law trials have been adopted by the northern hemisphere, including at the scrum and breakdown.
"We are trying to make the game more understandable, and make sure the ball is in play more," said Barnes.
"It's a technical game, but if we can make it a little bit simpler, that is going to be better for the game."
Barnes disagrees that the law changes will limit the contest for the ball at the scrum and ruck, and says they have been approved by the world's top coaches.
"They were involved in the discussions about what needed changing," Barnes added. "They are the ones that are pushing this, it is very much coach-driven. We are more than happy to give them a go.
"These are a year trial and we will see what happens in a year."
Get all the latest rugby union news by adding

notifications

in the BBC Sport app.