Edinburgh played like Sunday team in loss to Benetton - Richard Cockerill
Last updated on .From the section Rugby Union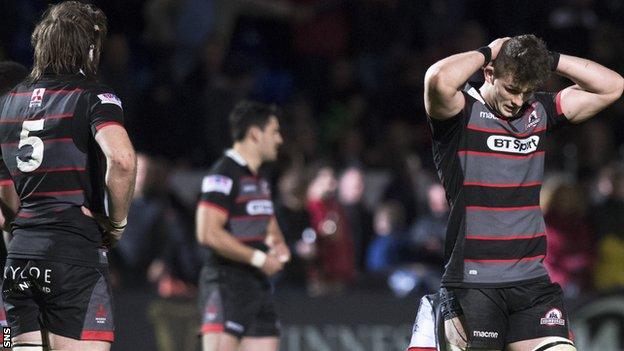 Coach Richard Cockerill described Edinburgh's display as unacceptable as Benetton secured their first win outside Italy in 41 games.
Cockerill accused his team of throwing the ball around like it was "a Sunday afternoon game" in the 20-17 defeat.
"We got what we deserved," he told BBC Scotland. "We were inaccurate, we did exactly what we said we wouldn't do.
"But the players have to learn their lesson very quickly because it is unacceptable really."
Benetton held on for their first win of the season despite having two players sin-binned as Edinburgh pressed their visitors' line in the dying seconds.
Asked if his side should have been awarded a penalty try by referee David Wilkinson, Cockerill said: "You'll have to ask him. I've got myself in enough trouble over the last couple of years.
"I would rather they didn't send the guy to the bin because we were going to push them over.
"If it's two penalties on the trot, you could argue that it's a penalty try, but we shouldn't in the 80th minute be hoping that the referee's decision gives us the result.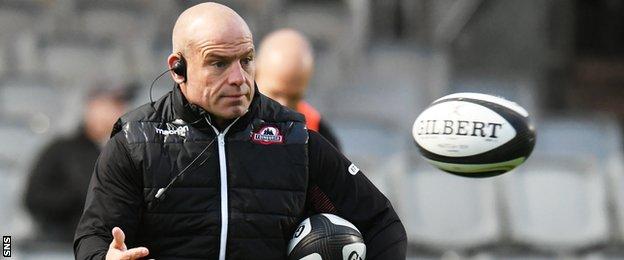 "We should have been better than that. We were 14-0 up, we went to sleep in defence to let them score and they scored 10 points with a man in the bin."
Two Chris Dean tries appeared to have put Edinburgh on their way to a third straight win, but Benetton responded, with Angelo Esposito grabbing two touchdowns of his own.
"Treviso don't come to play," said Cockerill. "Once they're in front, they did what they did, but fair play to them.
"We talked about holding on to the ball and we're offloading for fun and we're just chucking it around like it's a Sunday afternoon game and that cost us.
"We've got international players out there making very poor decisions and, if they make those decisions, it's going to cost you.
"They were sloppy. After they took the lead, they thought they were just going to breeze it and that's how they behaved.
"So the honeymoon is clearly over and now we need to revisit a lot more fundamental things and regroup and make sure we get it a bit better for next week."