Rugby World Cup 2019 organisers 'behind on preparations'
Last updated on .From the section Rugby Union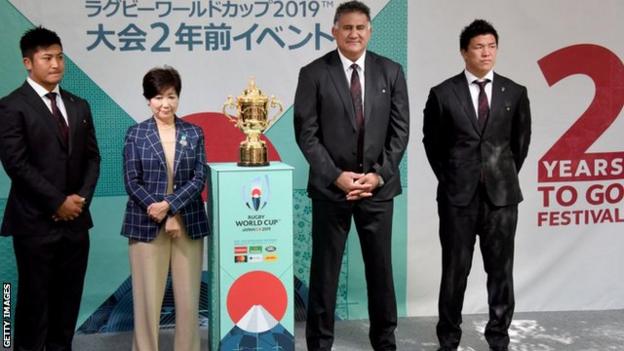 Hosts Japan are behind on preparations for the 2019 Rugby World Cup, tournament director Alan Gilpin says.
Gilpin expressed his concerns after a third round of tournament review meetings this year in Tokyo on Sunday.
Wednesday marks two years until the event starts on 20 September 2019.
"There are areas where the organising committee has not progressed as much as we would expect by this stage," World Rugby chief operating officer Gilpin told Kyodo News.
"We have reminded our friends at the organising committee that there is no time to lose with two years to go."
Gilpin added that the organisers "recognise that they need to accelerate the selection of training venues".
The 2019 tournament will be the first time it has been staged in Asia with New Zealand the defending champions.